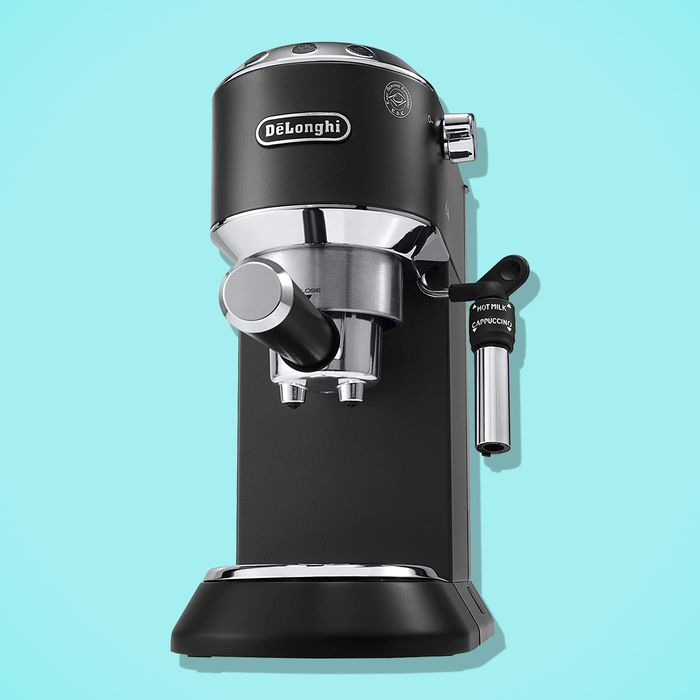 When I quit my secure[-ish] staff job last year, my first thought was not, what about my pension, but how will I caffeinate myself in the morning without the Pret by the office? I'd eventually settled on a cafetiere, when I spotted a gleaming coffee machine in the corner of my friend Alana's house. Alana has excellent taste — so much so that I recently sold my kitchen table, to buy one more like hers. But I am lazy by nature, and her coffee machine seemed like a lot of work: It had a milk frother, and you had to grind the beans yourself. However, the coffee was as good as you'd get from Climpson & Sons, on Broadway Market. And so when I got some birthday money from my dad last year, I invested.
A year and approximately 1,095 oat lattes on, I can truly say that I love my De'Longhi Dedica Style Traditional Barista Pump Espresso Machine, Coffee and Cappuccino Maker like a child. The machine itself looks chic on my worktops — I like the matte-black finish. But it's the coffee that counts. Every morning, I wake up and grind a baby's fistful of coffee beans from roastery and social enterprise Old Spike, which offers employment to homeless people across London. (I normally buy three kilos of whole-bean coffee at a time for £75, which is enough to caffeinate my partner and I for about two months.) I tamp the ground coffee into the pump — this is my favourite bit, because it makes me feel like a coffee-shop barista — and then slot the pump back into the machine.
[Editor's note: There is low availability in the black model, but plenty of red in stock.]
Once the espresso is done, I flick on the milk-frothing function and give the steam machine a little blast, to clean it out. This is absolutely crucial: If you don't clean out the milk frother it starts to scream and wail, and, worse, it will stop getting the milk all bubbly. After the milk machine is steaming at full capacity, I fill a metal milk jug with 200ml of Oatly Barista edition, make sure the machine setting is on the 'cappucino' function, and then heat the milk. Wipe down the machine, clear the grinds out from the pump, and blast the milk frother one more time, to clean it out. Then pour the hot milk into the KeepCup full of espresso, and enjoy. The machine also does espressos and cappuccinos, and one time I made a chai latte in it, but most of the time I stick to my trusty oat-milk latte.
The whole process takes around four minutes: approximately the same amount of time as an Aeropress, but more hands-on than a cafetiere. But the result is a perfect-for-me latte that I drink three times a day (or more), from the comfort of my own home. There is some maintenance involved, but it's not too onerous. You have to clean out the grounds from the machine every time you use it, otherwise they clog the pump, and you also have to descale it once in a while, a chugging exertion involving cleaning solution and a combination of buttons I can never remember how to work.
A year in, I've developed my perfect cup of coffee: very strong, with extremely hot and frothy milk. I love this coffee machine on a sort of desperate level, so much so that it's ruined the experience of going to coffee shops for me — I've barely bought takeaway coffees in the past year.
The Strategist UK is designed to surface the most useful, expert recommendations for things to buy across the vast e-commerce landscape. Read about who we are and what we do here. Our editors update links when possible, but note that deals can expire and all prices are subject to change.