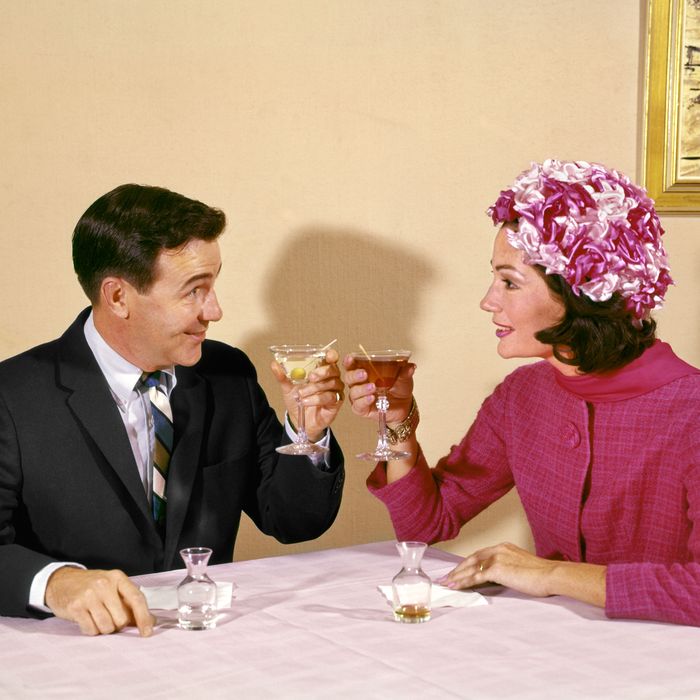 Photo: H. Armstrong Roberts/ClassicStock/Getty Images
There's nothing like fixing yourself a cocktail or a glass of something after a long day (whatever your tastes when it comes to drinking). You get all the glamour of ordering a martini or Negroni in a bar without having to change out of your sweatpants. Plus, it can be entirely customised to the space you have at home; whether you have a single shelf or a whole bar cart, you can put together everything you need for a happy hour in your living room. We spoke to ten experts across the hospitality industry, including bartenders, restaurant managers, and cocktail makers to find out what they drink while they're at home, as well as the squeezers, shakers, and spoons they use to make their favourite drinks.
Three of our experts said a cocktail shaker was a non-negotiable when it came to organising a home bar. "It's the only apparatus that's essential, and can't really be MacGyvered safely," said Alessandro Stabile, director of operations at the Pilgrm hotel. Felix Cohen, founder of Manhattans Project, specifically recommends a Boston shaker. "This is the style with two tins that you bang together. You can pop the small tin inside the larger one for a really ad hoc strainer, and the metal tin is great for stirring drinks in."
Osvaldo Romito, head bartender at the Megaro bar in Kings Cross, likes a shaker to be weighty. "It's my most-used bar tool, it's absolutely essential," he says. Cohen advises against the common practice often seen in bars of using a pint glass with the shaker, "it can easily shatter when you knock the tin and glass together," and suggests instead to get a shaker that comes with two-piece durable metal set of cups.
Best cocktail strainer
Romito says a spring strainer is his personal preference — it has a coiled spring around the rim which helps stop ice leaking into your drink. "Plus, the handle shape is designed to provide a more comfortable and steady grip, letting the spring stick to the mixing tin or mixing glass."
Best ice tray
Four of our experts recommended an ice tray as a home-bar essential, with three specifically mentioning W&P design. They do moulds for different kinds of ice, and while Cohen says a 2" cube is his preference, especially for a spirit or any cocktail on the rocks. "Your drinks will dilute less, and you'll feel like your cocktail at the end of the day is more of a celebration," says Cohen. Salvatore Russo, Sommelier at Heliot's Steakhouse, says "the larger the better," when it comes to ice — although he has used baby weaning moulds in a pinch, too.
Aidy Smith, TV presenter for Amazon Prime's The Three Drinkers, says she specifically likes W&P's Collins ice tray, which makes long spears of ice designed for a Tom Collins or any cocktail served in a highball glass. "You get decent size cubes that freeze quickly. Once frozen, I bang the cubes into a ziplock bag and find a corner of the freezer to cram them into. They're a generous size, so you don't get through them too fast."
Best citrus squeezer
Both Cohen and Romito recommend the "Mexican elbow" squeezer over a citrus extractor (the device where a halved fruit is pushed into a ridged spike). "Squeezing with an elbow squeezer gets you all the aromatic oils from the skin of your fruit, too, which in turn makes much more delicious drinks," Cohen says. "It's also a lot less washing up." There are a number of different sized options, including ones for lemons, oranges and limes. Romito also likes to make 'ice basket' garnishes with these, by freezing water, herbs and berries in the mould before popping it into a gin-and-tonic. An aside: I bought one of these myself, opting for a lemon squeezer with a lime insert — the lemon chamber can even handle a grapefruit or orange, if you quarter the fruit first. And make sure you put the fruit in flesh-first; it means you get all the oils from the skin.
Best bar spoon
Though you can measure things out with a regular tablespoon, there are benefits to a specific stirring spoon at your home bar, says Romito. "Bar spoons are necessary for drinks that need to be stirred instead of shaken," such as Negronis or martinis. Cohen says the general rule is to shake drinks that have fruit juice in them, and everything else can be stirred. He likes this spoon, which has a flat end that's used for muddling mint for a mojito, or even breaking up ice. "I feel more comfortable using a specialist tool for the job instead of a regular spoon," he says.
Photo: retailer
Our experts said it was best to focus on spirits you're going to use a lot — rather than try and replicate your favourite bar at home. The most popular spirit was gin, which four of our experts suggested for its versatility. "As a Negroni lover — I always have gin, Campari, sweet vermouth, and fresh oranges at home," says Catalin Ciont, bar manager at Jason Atherton's City Social. "But a classic gin martini is always good after a long week at work, too."
"Own-brand spirits from supermarkets like Aldi and Lidl have won numerous awards over the past couple of years, and are worth a try," says Stabile, who thinks their affordability makes them a great option for stocking a home bar. He likes Aldi's Greyson Seville Orange & Persian Lime Gin, simply served with tonic and ice.
Russo says the best gin for a gin and tonic is Chapel Down's Bacchus Gin, which is made in England. "The base spirit is made from the Bacchus grape, and this makes for a very refreshing gin-and-tonic with aromatic and floral notes." The flavour profile includes juniper, orange peel, lemon, and lavender.
Ciont says a Sicilian gin is great for a Negroni and likes this one from Panarea Sunset. "It's a botanical gin, fundamentally different from a classic dry one," he says. "That means it's softer, sweet, and more fragrant, which just goes so well with the bittersweet notes in a Negroni."
Best tequila
Cohen and Smith both advocate for tequila in any home bar. "Anything that's 100 percent agave is going to be good," says Cohen. "El Jimador is the bottle I normally reach for for mixing, like a margarita or paloma, but I also have a bottle of the pricier Fortaleza for sipping."
"I get tired of the same old thing and tequila offers so much diversity, so this beauty has become my go-to spirit," says Smith, who prefers Patrón Reposado. "I use it for a classic margarita, but sometimes I muddle in pineapple or bang in some chili. I also love a paloma, or a tequila with tonic. It's such a versatile spirit."
Best vodka
Ciont says a good bottle of vodka is a welcome addition. He likes Sauvelle, a craft vodka made at a micro-distillery in Cognac. "It's rich and creamy, with vanilla and cherry blossom notes," he explains. "And it's made using French wheat and water from Gensac". His other favourite is Belvedere.
Best sherry
Photo: retailer
Perhaps surprisingly, sherry came recommended from two of our experts — specifically Tio Pepe sherry. "It's a super dry fortified wine — great on its own chilled, or it can be used in a number of cocktails to add a depth," says Russo, including dirty martinis, margaritas, or rebuijto (a sherry and tonic–based cocktail). "It's a great substitute for vermouth in something like a martini, and it lasts a bit longer, too," adds Cohen. "It's also a little treat served with tonic, alongside a plate of hard cheese and some almonds."
Best bitters
Photo: retailer
Angostura cocktail bitters came recommended by three of our experts. "Think of this as salt for cocktails — it's so useful for making just about any drink a bit more delicious," says Cohen. The small bottle comes with a pipette for serving as the concentrated mix of spices and herbs is quite strong. "Bitters are great in cocktails, but they're also delicious served long with a mixer," says Stabile. Ciont says "you only need a few drops added to whisky, ice, sugar, and orange zest to make an old-fashioned in minutes".
Pre-bought syrups
Photo: retailer
Cocktails such as sours will call for a simple syrup, which, says Smith, "really isn't difficult to make — it's just hot water and sugar. But sometimes the faff of finding something to put it in, and getting all the measurements right, can be a bit of a farce if you just want a cocktail immediately." She likes the shortcut of always stocking purees or syrups at home. "They're a lifesaver." Her favourites are Monin syrups, which help make standard spirit-and-mixer drinks feel more special during her Zoom happy hours. "Vanilla is a middle-of-the-road option, but mango and peach flavours are also great for gin sours or margaritas."
Muslin strainer
Cohen likes to use muslin strainers for everything in his kitchen, "from making cold brew to jam. They are also great for making purees or infusions with any fruit you have lying around." He makes a coffee liqueur using this method, which that forms the base of an espresso martini ("It's nicer than Kahlúa, plus you can make it with decaf") and on his Instagram has pureed carrots to make a twist on a classic penicillin cocktail. "My absolute biggest tip with infusing stuff in muslin or superbags is to put the stuff you're infusing into the bag, then put that in the liquid — like a big teabag. It saves so much mess compared to trying to strain it all out after."
And a Strategist-approved bar cart to store it all in
Though your home bar could be assembled in a set of shelves or in a cupboard, there are some great options for bar carts on Amazon that aren't eye-poppingly expensive. We like this industrial-looking wood and metal one, which is just over 30 pounds.
The Strategist UK is designed to surface the most useful, expert recommendations for things to buy across the vast e-commerce landscape. Read about who we are and what we do here. Our editors update links when possible, but note that deals can expire and all prices are subject to change.