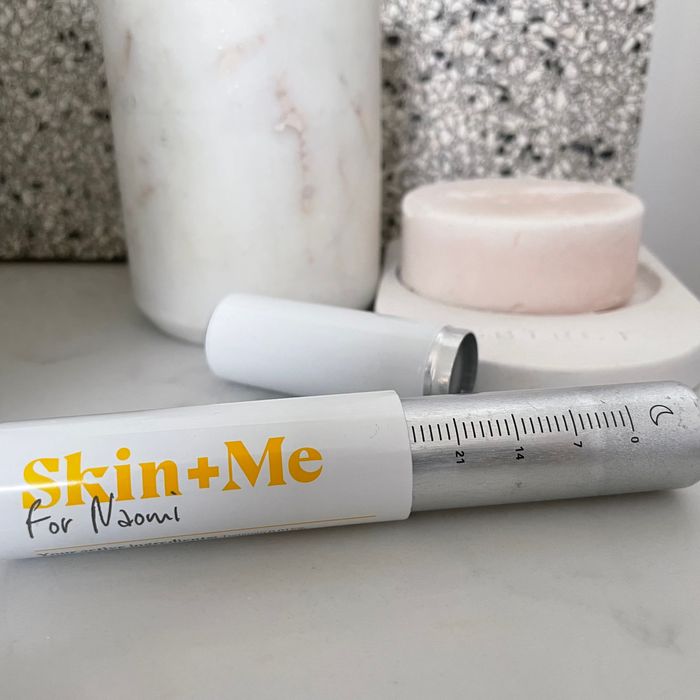 For four years, I had a cystic spot on my cheek that practically introduced itself at parties. No widespread acne — just one enduring under-the-skin bump. My daily routine (cleanse plus vitamin-C serum, then SPF in the morning; an evening hot-cloth cleanse, REN AHA, or a retinol before moisturiser and Kiehl's Midnight Recovery) had no effect to speak of. My spot-blitzing procedure of using the AHA, followed by vigorous squeezing and covering the area with a clarifying mask like True Balance mask from Evolve, would diminish it in size (while making up for it in redness) but only lasted so long. Every time I thought I'd got the better of it, up it popped. "You again!" I'd wail frustratedly into the mirror. At one point, it grew so big I went to my GP, who assured me my dermal nemesis wasn't life-threatening (though I still felt self-conscious).
I grudgingly accepted the spot's presence. Then I came across a company called Skin + Me while browsing LinkedIn (an odd place to find skin-care recommendations, I'll admit). Skin + Me is a prescription skin-care subscription packaged in aluminium. The timing was perfect: I was keen to cut a few steps from my not-quite-effective skin-care routine,and interested in using less plastic in my skin care. So I completed a long questionnaire, attached two unflattering, brightly lit makeup-free selfies and signed up to pay £24.99 per month, cancellable whenever. My answers were evaluated by an in-house pharmacist prescriber specialised in dermatology, working to a prescribing protocol designed by the brand's full-time consulting dermatologists. (There are relatively few dermatologists in the UK, and each charge around £250 per appointment, which made an e-consultation with Skin + Me seem like good value — especially as the derms also provide initial and ongoing training for each pharmacist prescriber.) The result was a portrait of my skin and lifestyle so comprehensive it stopped just short of tracking my daily commute.
The next day, an email from my ​​prescribing pharmacist came through detailing my custom prescription: tretinoin 0.006 percent with niacinamide 4 percent and azelaic acid 4 percent — all ingredients that treat blemishes, an indication that my nemesis spot was in danger. The treatment plan explained that, over the next four months, the tretinoin percentage would rise gradually to 0.015 percent in order to acclimatise my skin to its effects. My personal formula followed in the post two days later: an aluminium tube the size of an applicator tampon packaged in card. Every night, between cleansing and moisturising, I'd twist the tube to dispense the exact amount, which was reassuring when letting an ingredient like tretinoin loose on my skin for the first time. Suddenly, my routine was down to three steps: cleanse, moisturise, then SPF in the morning, and cleanse, Skin + Me, then moisturise at night.
Results weren't instant, but within weeks, something was definitely happening: My skin felt smoother and less dry even without AHA's and other rejuvenating products that I'd dropped. I didn't experience any tretinoin ill-effects like redness or flaking except once after accidentally applying it to my eyelid (it must have smudged onto my eye area with moisturiser). After three months, I could see signs of progress on my fine lines. It's now been six months, and my prescription remains the same (the percentage of tretinoin stabilised at month four). There's the option to tweak the formula at any time, but I'm not tempted, thanks to one unexpected side effect. I didn't initially notice my long-term spot shrinking, but one momentous day, I realised it was no longer there. It hasn't come back since.
The Strategist UK is designed to surface the most useful, expert recommendations for things to buy across the vast e-commerce landscape. Read about who we are and what we do here. Our editors update links when possible, but note that deals can expire and all prices are subject to change.