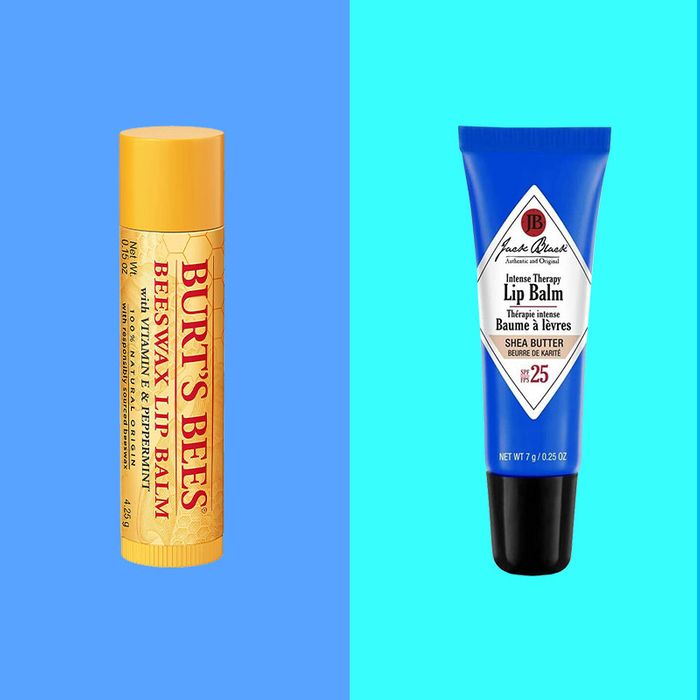 Photo-Illustration: The Strategist; Photos: Retailers
When it comes to lip balms, I was a pretty late adopter, using them only during the coldest winters. But over the years, I've started taking more of an interest in them year round, and like to have one within arm's reach at all times. Check the pockets of almost every jacket I own and you'll find a tube of Burt's Bees or Carmex stashed away, while my rucksack, tennis bag, and bedside drawer now have half-used ones I've impulse-bought after speaking to people for our Can't Live Without series.
As with products for your skin and hair, there's a surplus of options out there for lip balms — but the best ones are relatively non-descript. As Starface and Plus co-founder Julie Schott says, "The ideal lip balm smoothes and plumps without calling too much attention to itself. Reapplication should be quick and easy. It shouldn't be sticky, glossy, or taste of anything." In order to find the best balms out there, we canvassed opinions from experts including a makeup artist, a celebrity facialist, and the founder of a hair-care app. I also went through the Strategist archives to find cool-person-approved balms from DJs, drag queens, and a ballet dancer and compared reader reviews across Amazon, Holland & Barrett, Superdrug, and Boots. Read on for my edit of the best options including the best lip balms with SPF, the best heavy-duty options, and the best glossy lip balms.
Best overall | Best with SPF 15 | Best with SPF 25 | Best glossy | Best (less expensive) glossy | Best tinted | Best vegan
Texture: A good lip balm should moisturise, nourish, and, if you're chapped, repair your lips. While some are light enough for a quick application before leaving the house, others are thick enough to put on before you go to bed so they can work through the night. I'll be grading each lip balm as either light, medium, or thick in texture.
Scented versus unscented: Scent is largely a matter of personal preference, so we'll be focusing mainly on unscented lip balms — though we have included a handful of scented options that our experts recommend. Ingredients such as cocoa butter, coconut oil, or rose water will add a subtle scent to each balm.
Tube versus tin: During the pandemic, several people we spoke to say they prefer to buy their lip balm in tube form as it limited hand-to-mouth contact. Others find the tins last far longer and generate less waste. We'll be mentioning whether each balm comes in tin or tube (or both).
Best overall lip balm
Medium texture | Lightly scented | Tube and tin
Our best overall lip balm is an inexpensive, easy-to-find option that came recommended by two experts. Jihan Thompson, who founded the hair-care app Swivel, says this has been her go-to for as long as she can remember, and whenever she switches to a fancier balm, "my lips are never happy and never feel as moisturised." She describes it as "not too thick but thick enough for all seasons." Jules Miller, who founded the Nue Co., agrees, saying after trying hundreds of brands, this is her absolute favourite.
This is also the lip balm I've come to rely on most. It might not be as luxurious as those from Cowshed or Aesop, but the subtle peppermint scent is really nice, and the beeswax melts onto my lips with no effort. It was a tough call between Burt's Bees and Carmex's lip balm, which also came recommended by experts and has a similar price point and availability. I compared their reviews on a number of retailers, including Amazon, Holland & Barrett, Boots, and Superdrug. While both were highly reviewed, Burt's Bees stood out with an impressive 26,891 reviews on Amazon alone (78 percent of which were five stars). Along the original balm, this comes with more available scents such as coconut and pear, dragonfruit, ginger-lime, and mango.
Best lip balm with SPF 15
Photo: retailer
Light to medium texture | Heavily scented | Tube and tin
Like Burt's Bees, Carmex comes recommended by experts — DJ Clara Amfo and Queer Eye's Tan France — and is inexpensive and widely available. While combing through reviews on Amazon and Superdrug, one comment kept coming up: its almost medicinal menthol scent. It reminds me of Vicks VapoRub or Olbas Oil and is something of an acquired taste. (That said, Carmex comes in several scents, if you can't stand the original — Amfo says she enjoys the pineapple one.) One thing Carmex has that Burt's Bees doesn't is SPF, which, according to dermatologist and Mohs surgeon Dr. Susan Bard, is "crucial to protect your lips from harmful ultraviolet rays just as you do the rest of your skin."
Amfo says that, while some balms make her lips drier, "this is the only one that works" for her. France, who says his fellow host Karamo Brown also uses Carmex, says, "I've tried lots of other lip balms, even a couple of fancy ones, but nothing lasts quite as long." This lip balm comes in both tube and tin. I'd been using a tin of this during the winter and found it thicker in consistency than Burt's Bees (and a bit of a faff to apply). But while researching this story, I picked up a squeezy tube of Carmex in Sainsburys to see if it was any better. I found it smoother and softer in tube form and easier to apply. Plus the fact that it protects my skin from UV rays is a huge bonus. Not all Carmex lip balms contain SPF, however — look for the small sun icon on the top right of the packaging.
Best lip balm with SPF 25
Light texture | Unscented | Tube
While a lip balm with SPF 15 should provide ample UV protection (especially in the decidedly not sunny UK), you might want something stronger for occasional heat waves or trips to warmer climes. Drag queen Farrah Moan told us about a lip balm she almost universally recommends that also has an SPF of 25. "Before I heard of lip balm with SPF, I would just apply my facial sunscreen to my lips," she says. "Years ago, I picked this up at Sephora and have used it ever since. I don't only recommend it to people but also gift it to everyone in my life from drag queens to family to non-drag friends. It's flavourless, clear, and feels like adding Vaseline to your lips. I buy two or three tubes at a time."
Best glossy lip balm
Thick texture | Wand applicator | Unscented
If you'd rather have a balm that doubles as makeup, celebrity facialist Shani Darden says Chanel Rouge Coco Gloss in Icing is a perfect sweet spot between the two. "I like a balm that's super-hydrating and glossy, so generally a thicker one, but it can't be sticky," she says, adding that it makes her lips feel glossy and plump "without feeling gloopy." She says she always buys two at a time for fear of running out, and she always has two at home and one or two in her bag. "It's the perfect amount of hydrating gloss. I can't get enough." The cocoon-shaped wand is specifically designed to make application as easy as possible. It contains a mix of jojoba, sunflower, and mimosa oils and comes in ten shades.
Best (less expensive) glossy lip balm
Light texture | Tube | Lightly scented
Suki Waterhouse put this balm on our radar, telling us she heard about it while she was out for dinner with friends. It's a glosslike balm that's half the price of the Chanel Glossimer, but Waterhouse says it still leaves her lips looking big and soft. "I put it on throughout the day and really smother it on at night before I go to sleep so I can wake up with pillowy-looking lips." Reviewers on Cult Beauty noted that the balm had a "light" scent but struggled to define it — given that it contains shea butter and jojoba oil, I would guess it has a slightly nutty, almost hazelnutlike aroma.
Best tinted lip balm
Medium texture | Scented | Tube and tin
Two experts say their holy grail balm is the Fresh Sugar Lip Balm SPF 15. Creative consultant Diana Tsui says it beats everything from Aquaphor to La Mer. "I have perpetually chapped lips, and I've tried so many different balms, but every time I find myself going back to the Fresh Sugar Lip Balm SPF 15. I've been using this lip balm for well over a decade (on and off), and I can say it's by far the best," says Tsui, who cites the stick application as a big plus. Though it also comes in a tin, Tsui says, "I like the idea of a tube, one that I can unscrew and recap, between uses."
In terms of formula, Tsui says it's neither too thin nor too sticky, and it leaves a moisturising coat on her lips that protects against dry patches. It's also a favourite of makeup artist Mona Leanne, though she plumps for the tinted version. "It's got a lovely texture, and the pink sheen is really gentle and pretty. They also make one with a rosy scent, and I find that really cheering. It's a great mood boost," explained Leanne, adding that the pink tone is great for a really natural makeup look or to add a quick bit of colour to the face.
Best vegan lip balm
Medium texture | Scented | Tube
This inexpensive vegan lip balm comes recommended to us by ballet dancer William Bracewell, who says it's the best he's ever tried. "I find being inside most days just really gets my lips irritated and dry. I cannot tell you how many lip balms I have tried, though — all the Vaselines, all the Blistex ones, Burt's Bees. I tried tons and tons, and this is my absolute favourite. It's got Beeswax in it, but it's not shiny. It's good quality, and it's made with natural ingredients." Reviewers on Amazon noted its light vanilla scent as well as the fact that it's hard working without being too thick. One customer, based in the Scottish highlands, called it their go-to for blustery hikes that would otherwise leave their lips chapped.
Clara Amfo, DJ
William Bracewell, ballet dancer
Shani Darden, celebrity facialist
Tan France, Queer Eye host
Mona Leanne, makeup artist
Jules Miller, founder of the Nue Co.
Farrah Moan, drag queen
Julie Schott, Starface and Plus co-founder
Jihan Thompson, founder of Swivel
Diana Tsui, creative consultant
Suki Waterhouse, actress
The Strategist UK is designed to surface the most useful, expert recommendations for things to buy across the vast e-commerce landscape. Read about who we are and what we do here. Our editors update links when possible, but note that deals can expire and all prices are subject to change.