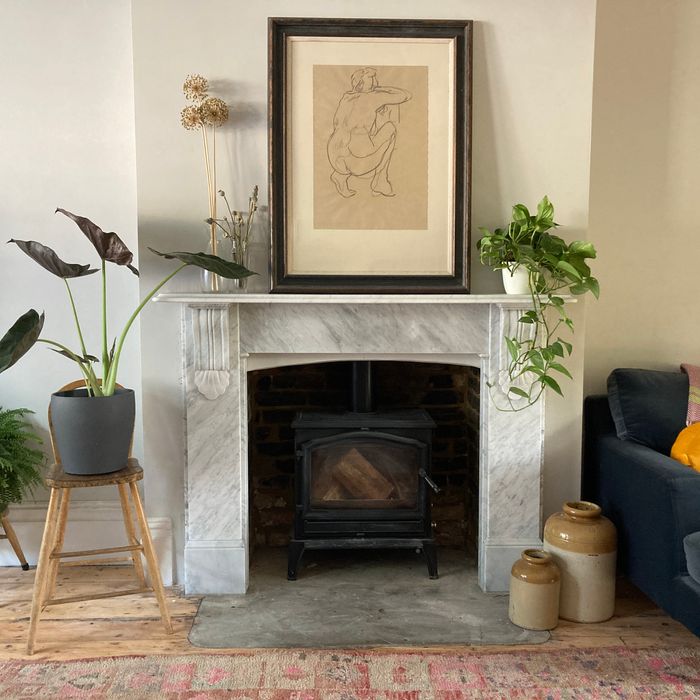 My young Alocasia takes pride of place next to the fireplace.
Photo: Sonya Patel Ellis
You may be a rookie propagator, or seasoned ficus-owner, but you've probably googled gardening advice at some point, and come across stories that muse on the relative values of different John Innes mixes. If you need something a little more small scale, we've got it covered. Our columnist, gardener, author and botanical artist Sonya Patel Ellis will be writing about plants (big and small) and how to tend to them, whatever your growing space (a tiny patio, a windy balcony, or a heaving sill next to the kitchen sink). 
It's taken me ten years to get around to renovating my rambling double-fronted Victorian home, and I've been dreaming of a show-stopping floor plant with which to adorn our living area for almost as long as it's taken to do the space up. In the early days, I imagined a fiddle-leaf fig (Ficus lyrata) posing just so by the fireplace. But as my family grew, and I learned more about the botanical world (I wrote the Collins Botanical Bible while sharing the living room with an army of toys, and The Heritage Herbal while testing recipes with a five year old and an eight year old underfoot), this particular Ficus began to lose some of its charm.
Although deservedly saturated on Instagram due to their handsome form, Ficus lyrata are finicky plants, prone to losing their leaves or going all brown and crispy at the edges from the shock of being moved or a lack of fine tuning on the watering or feeding front. The heartbreak of losing a fiddle leaf fig is substantial, as several friends discovered after reaching out to me (too late) for plant advice. While I'm all for finding out what makes such prized specimens tick and nurturing them accordingly (in my early years I killed a fair few plants by being too laissez faire about light, humidity and watering), I'm realistic about my house-plant needs. I have a moisture-loving Boston fern (Nephrolepis exaltata) in the bathroom, the almost indestructible golden pothos (Epipremnum aureum) in the kitchen, and an easygoing peace lily (Spathiphyllum wallisii) in the bedroom. Still, the lack of something large and leafy by the fireplace tormented me. But while scouring plant emporiums and flower markets and while researching my next book The Modern Gardener, the Alocasia "Regal Shields" caught my eye.
A cross between Alocasia odora, also known as the giant upright elephant ear thanks to its huge skyward-pointing, elephant ear-shaped leaves, and the relatively rare Alocasia reginula (or Alocasia "Black Velvet" named for its darkly majestic, silver-veined, heart-shaped foliage), the "Regal Shield" holds its own in terms of height, bold foliage and intrigue. I was totally sold on its size and looks — a potential height and width of around 2 x 1m (6 x 4ft) and large, glossy, ribbed black-green architectural leaves with the added allure of a maroon underside.
With an ancestral lineage harking back to the tropical and subtropical rainforests of Asia and East Australia, it prefers bright, dappled light and high humidity. An east- or west-facing window is ideal, away from drying heaters and draughts. My south-facing veranda doors have light-filtering linen drapes so the placement works fine as long as I remember to turn the pot every now and then for even growth. Plus a stint outside in a semi-shady spot, if it ever gets warm enough, will spur on those mammoth elephant ears and add a jungle vibe to upcoming al fresco gatherings. To boost moisture, I stand it on a tray of damp pebbles and mist lightly with rainwater a couple of times a week between waterings (when the top few inches of soil are dry) — a nice little ritual in itself. An aside: Before I purchased (I visited Forest Gate–based Green & Lush for a bespoke specimen) I checked to see if it's safe to have an Alocasia around my kids and cat as the leaves contain toxic levels of oxalic acid. As none of my crew seems particularly prone to nibbling on houseplants I think I'll be okay — but your mileage may vary.
Soil and drainage is also manageable. I opted for a healthy medium-size plant that I initially transferred into a well-draining pot filled with fertile loamy soil on top of a layer of coconut coir. It also helps to weigh these top-heavy plants down — the perfect excuse to invest in one of these beautiful Endo reclaimed iron planters from Nkuku.
The Strategist UK is designed to surface the most useful, expert recommendations for things to buy across the vast e-commerce landscape. Read about who we are and what we do here. Our editors update links when possible, but note that deals can expire and all prices are subject to change.