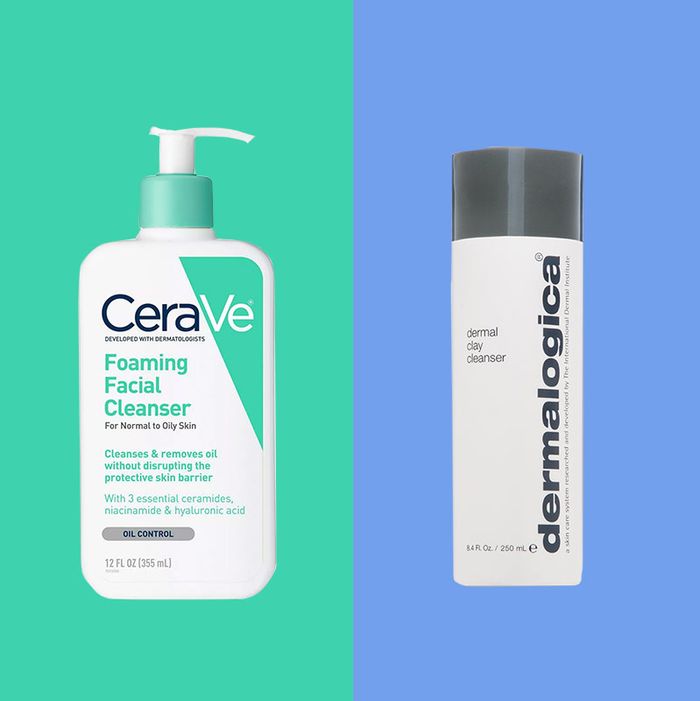 Photo: Courtesy of the retailer
A version of this story originally appeared on the Strategist U.S.
No one likes having a greasy face, but oftentimes, what we do to combat the oil leads to the production of even more oil. "Oily skin happens when the sebaceous glands in the skin make too much sebum," explains Dr. Gretchen Frieling, a board-certified dermatopathologist. "Sebum is the waxy, oily substance that protects and hydrates the skin, and it's essential for keeping the skin healthy. However, too much sebum can lead to oily skin, clogged pores, and acne." According to Dr. Joshua Zeichner, director of cosmetic and clinical research in dermatology at Mount Sinai Hospital, how much oil your skin produces is determined by your genes. "While you can't change your genetics, you can minimise the appearance of oily skin by using specific skin-care products," he explains.
And while squeaky-clean skin may be tempting, "It is important to remember that you still want to treat skin gently," says Dr. Michelle Park of Washington Square Dermatology. "The goal is not to strip skin of all oils. In fact, if you do that, it will lead to worsening acne and skin quality, as the dryness will send a signal to the skin to make even more sebum to compensate, leading to even oilier skin."
To help you choose a face wash that will help control your oil without stripping your skin of it, we spoke to five dermatologists (and two makeup artists and a facialist) for their recommendations.
Best overall face wash for oily skin
When choosing a face wash, Park says to look for something "gentle and foaming, so it can gently remove oil and impurities." She adds that it should also be oil-free and noncomedogenic (i.e., won't clog pores). She and Frieling both recommend CeraVe's Foaming Facial Cleanser, which Park says is safe for all skin types, including oily skin. "I love this product because the formula has three essential ceramides to cleanse the skin without stripping it in the process," says Frieling. Ceramides, she adds, help skin rebuild and repair the protective barrier to make it more resilient against future damage and signs of ageing. It also contains hyaluronic acid, which provides moisture, and niacinamide, which soothes and calms the skin, while sodium lauroyl lactylates give the cleanser its foaming consistency, which helps loosen skin impurities.
Park notes that because foaming washes get deeper into your pores than creamier solutions to remove dirt, oil, and makeup, they have the potential to leave the skin feeling dry. If you find a foaming cleanser too drying, experiment with different ones to find one that works for your skin, she advises. "And it's important to remember to continue to moisturise the face," she adds.
Other foaming cleansers
Zeichner recommends a foaming face wash for his patients who have oily skin, saying that they "more effectively remove oil as compared to cleansing lotions or balms." He recommends this gentle daily foaming cleanser from Neutrogena because it contains "hydrophobically modified polymers," which he says "effectively cleanse and remove dirt and oil without disrupting the outer skin layer."
Here's another foaming recommendation from Park, and it contains ceramides, which maintain the skin barrier, as well as niacinamide, which can lower sebum-excretion rates.
If you find a foaming cleanser too drying, makeup artist Shara Strand recommends trying a cleansing gel, like this one from Mario Badescu. "Any gel is great for oily skin, as gel is really cooling, and it has moisturising elements to balance out oily skin," she explains. This particular cleanser includes fruit enzymes and alpha-hydroxy acids that gently exfoliate impurities from the skin. Strand suggests starting with micellar water on a cotton pad to remove makeup, then washing with the gel, then following up with a lightweight moisturiser. According to Strand, "The less product you use on your face, the less oily your skin will be."
Dr. Jennifer MacGregor of Union Square Laser Dermato­logy recommends trying light peeling agents like glycolic acid and salicylic acid to help with oil production. "For those with oily skin that tend to get blocked pores, I love gentle glycolic cleansers," she says. She recommends "using it in the morning before applying a light oil-free sunscreen moisturiser."
"I love the Olixia Gummy Cleanser for oily skin, as it has eucalyptus, so is antibacterial," says Katie White, facialist and founder of re:lax ldn, a skin studio in Hackney. It also "contains skin balancing oils, such as macadamia oil, but doesn't leave skin feeling oily," she tells us. "It's a gummy cleanser that emulsifies into a milk, it lifts makeup, SPF, and excess oil." The Olixia Gummy Cleanser also contains phenolic acid, which acts as a gentle exfoliant.
Best face wash for acne-prone oily skin
According to Park, having an excess of sebum can lead to clogged pores from dead skin cells sticking to the sebum, which results in acne. If you are prone to breakouts, she recommends looking for a face wash that can gently exfoliate the skin to get rid of impurities, dirt, and oil. "Products that contain low amounts of benzoyl peroxide or salicylic acid will achieve this without being too harsh," says Park. Dr. Tara Rao of Schweiger Dermatology Group agrees that those two ingredients can help reduce some of the oil buildup that occurs on the skin throughout the day. Park recommends Neutrogena's Oil-Free Acne Wash — whose active ingredient is salicylic acid — as a reliable option for a face wash that's gentle yet effective.
"I work with natural products because they're great for oily skin, which is often acne-prone," says Katie White, facialist and founder of re:lax ldn, a skin studio in Hackney. Natural skin-care products often contain "less excipients such as fillers, binders, foaming agents, etc., which can strip skin and lead it to produce more oil." White recommends Nini Organics' "Natura" Detox Foam, a "gentle foaming wash that comes as a powder and is activated with water." As it contains BHA, the foam is great for "oily skin suffering from congestion or acne," and it's also "jam-packed with antioxidants and vitamins to leave skin glowing." White recommends using this two to three times a week, as it will function as a deep cleanse.
Best clay cleansers for oily skin
For a more "clean beauty" alternative to a face wash, Frieling recommends this clay cleanser from Dermalogica. It contains kaolin, bentonite, and green clays, which she says "banish excess oil and impurities to deep-cleanse the skin." To balance out these ingredients, it's infused with menthol, sage, cucumber, and milk proteins, which Frieling says help calm the skin.
This cult product is made of 100 percent calcium bentonite clay (which you mix with apple-cider vinegar or water to create a mask) — and a much cheaper alternative to the Dermalogica clay cleanser. Makeup artist Melissa Bedi swears by it: "I love Aztec Secret Indian Healing Clay mask to draw out impurities and tighten pores."
Best charcoal cleanser for oily skin
"Charcoal is another commonly used ingredient for oily skin because it is highly absorbent and attaches to and removes oil from the skin," says Zeichner. He recommends this warming gel cleanser from Boscia that contains both activated charcoal and vitamin C to help remove oil and refine skin texture.
Face-wash alternatives for oily skin
Bedi chooses to forgo face washes (which she says "are filled with chemicals and are drying to the skin") altogether, instead using this witch-hazel facial toner to cleanse her face. She likes that it's "gentle and hydrating" and uses it on cotton pads to clean her face, even when she's wearing makeup. (She takes off her eye makeup with a separate eye makeup remover first.)
[Editor's Note: Bedi's choice is not available in the U.K., so we recommend this very similar alternative.]
To exfoliate, Bedi uses this scrub every two to three weeks to slough away dead skin. The physical exfoliant has crystals that, according to Bedi, "are perfectly round and roll on the skin, and so will not microscopically tear pores and enlarge them."
The Strategist UK is designed to surface the most useful, expert recommendations for things to buy across the vast e-commerce landscape. Read about who we are and what we do here. Our editors update links when possible, but note that deals can expire and all prices are subject to change.