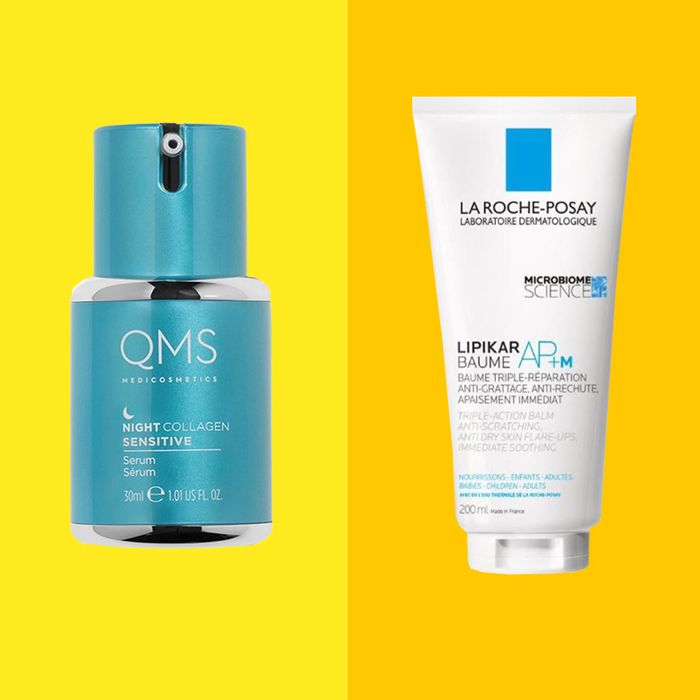 Itchy, scratchy, distracting, persistent, unsightly; it's no exaggeration to say that, although a skin complaint, chronic atopic eczema can go so far as to affect your mental health including sleep loss, stress, and depression. So it's critical to keep it as under-control as possible.
Atopic eczema (also somewhat confusingly referred to as atopic dermatitis) is the most common type of eczema in the U.K., affecting one in 12 adults. What causes atopic eczema is not entirely clear, but research shows that it is often an inherited condition, and that over half of the people who suffer from it lack sufficient levels of a protein called filaggrin in their skin, which usually helps bind the skin barrier together to retain moisture. Without enough of it, the skin barrier can become weakened and inflammation-prone and as a result, the exposed skin becomes ultra-sensitive, itchy, and red.
What triggers atopic eczema is not much clearer: Triggers can vary widely from dust mite to stress. In addition to this, eczema can come and go at any time throughout a sufferer's life without an obvious pattern.
So we spoke to ten experts, including dermatologists and skin specialists, asking them to recommend their go-to over-the-counter products that have been developed to help manage and ease the symptoms of eczema, as a complement to medication and therapies prescribed by your doctor. Read on for the best lotions, creams, ointments and sprays to soothe, heal and treat eczema-prone skin.
Best overall eczema treatment
This product was recommended by half of our experts because it thoroughly (but gently) cleanses and treats eczema, while also reducing itching and helping prevent future flareups. "As an everyday cleanser for both face and body, Dermol Lotion is an excellent substitute for soap," says Dr Kathy Taghipour, consultant dermatologist at DermConsult Clinics London. "It cleanses the skin without leaving it dry and — crucially — contains antiseptic and antimicrobial qualities, which are really important in the prevention and treatment of infected eczema." Dr Taghipour also likes the fact that it comes in a handy and hygienic pump. To put it into context, Dermol is a no-frills medical brand that dermatologists and GPs regularly prescribe alongside prescription-only treatments. Dr Alexis Granite, Consultant Dermatologist at Mallucci London, is another fan: "This is a great and inexpensive option for all types of atopic eczema because as well as being a highly effective soap substitute, it can also be used as a leave-on emollient to hydrate the skin." And if you're one of those people who feels like a lotion consistency just isn't heavy duty enough for your eczema, you can opt for the sister product — Dermol Cream — which has all the same benefits but in a slightly thicker formulation.
Best eczema treatment for very dry skin (face and body)
"As a doctor and mother of three children with eczema, the one over-the-counter product I truly recommend is Epaderm Cream," says Dr Nyla Raja, cosmetic dermatology GP and medical director of Medispa Cheshire. Epaderm is a budget emollient cream (and, like Dermol, one that is regularly prescribed alongside prescription-strength treatments) formulated with soft paraffin and liquid paraffin — stalwart sensitive-skin ingredients that leave a layer on the skin to trap in as much moisture as possible, repel water, and basically help the skin barrier do its job to reduce it cracking. The cream contains little else, which is why Raja is such a fan. "The fewer and more basic the ingredients the better because it drastically reduces the risk of skin irritation. This cream only contains six," she explains (and none of them are parabens). And while Epaderm Cream is a great all-over moisturiser, it can also be used as a cleanser when mixed with water. Dr John Quinn, a GP with clinical dermatology specialism and founder and medical director of Quinn Clinics, adds that Epaderm Ointment, while greasier, offers a more potent hit of the same benefits: "In simple terms, ointments are more effective than creams but the trade off is that they can be cosmetically less desirable." The way to do it? Grease up in ointments overnight, and replace with creams during the day. [Editor's note: This product ships in one to two months.]
Best lightweight lotions (face and body)
Don't be put off by the light consistency of this formula; it's a healing heavyweight, and a favourite among experts. "Although this is a lightweight moisturiser, it helps to effectively repair and protect the skin barrier while having some added benefits," explains Dr Taghipour. "It contains ceramides, which are naturally occurring fats in the skin, alongside hyaluronic acid, the combination of which helps to lock in long-lasting moisture and offer hydration for 24 hours." This makes CeraVe Moisturising Lotion particularly suitable for people who prefer a lighter formula, but may not have the time for repeated applications throughout the day (which is usually required with less heavy-duty formulations like this one). Dr Granite adds that this formulation can be "especially useful for the hands as it doesn't leave skin feeling greasy."
Rio Viera-Newton says shea butter is one of her all-time favourite ingredients for hydrating dry or irritated skin. She specifically recommends this one by Buttah that "is rich in vitamins A, B, and E (which can repair and soothe inflammation), while its emollient properties help lock in moisture to ensure the skin stays hydrated." She adds, "It's more nourishing than any other body cream I've tried and never leaves my skin feeling sticky or tacky." [Editor's note: This price does not include delivery.]
Best eczema treatment with spray applicator
"The key to breaking the itch-scratch cycle is to keep the skin's hydration levels up and help it maintain its barrier function," explains Professor Andrew Wright, consultant dermatologist and honorary professor at Bradford University. "On the days you shower, apply a heavier, greasier emollient as soon as possible after showering — they are great at holding water in the skin — and then if you have a day where you don't shower, use a cream as these tend to have a higher water content." Any application, however, is made more difficult when your eczema is extensive or in hard-to-reach areas. And for that, Dr Taghipour recommends Emollin Aerosol Spray. It has all the previously mentioned skin-barrier-boosting benefits of soft paraffin and liquid paraffin but in a handy aerosol formula, which is easy to apply all over the body. "It is particularly useful for areas like the back, and also for children," says Dr Taghipour. "Plus it has, in my opinion, the huge added benefit of containing no preservatives or additives."
Best quick-drying balm eczema treatment
If waiting for topical treatments to dry before you can dress in the morning is something you never seem to have time for, Aveeno's Dermexa Fast & Long-lasting Balm is worth a try. "This balm has the benefits of being intensely moisturising and reducing itching for up to six hours, but also fast-absorbing, which means you're much more likely to bother using it when you're in a rush to get out of the door!" says Dr Ross Perry, Cosmetic Doctor and Medical Director of Cosmedics Skin Clinics. It contains colloidal oatmeal, oat extracts, and oat oil, which help support the skin's natural bacterial balance, enrich it with antioxidants, and help its barrier function respectively. In addition ceramides support the skin's barrier further by helping prevent water loss, so it's a great all-rounder for skin health.
Best facial cleanser eczema treatment
Although this cleanser can also be used on your body, it has been formulated with the face in mind. "This cleanser is soap-free, fragrance-free and non-comedogenic, which means it won't clog pores," explains Dr Perry. "You can use it either as a lotion-style cleanser (i.e. wipe it off with cotton pads) or mix it with water. It's also formulated to help the skin retain moisture while cleansing it, which is ideal for eczema sufferers." Alongside this there is a foaming, face-specific version available (Cetaphil Gentle Foaming Cleanser 236ml), which Dr Rosa Santa Cruz, consultant surgeon and aesthetic doctor at the Private Clinic of Harley Street, says is particularly great at removing makeup from super-sensitive skin. "The reason I like this range is that Cetaphil's manufacturer is a well-known dermatologic company that specialises in a wide range of prescription products for various dermatological conditions. It has developed Cetaphil as an over-the-counter budget line with the same safety protocols and effectiveness of its prescription range."
Best facial moisturiser eczema treament
This slightly more expensive and sophisticated moisturiser is excellent for highly sensitive facial skin, which often has more complex needs than the rest of the body. "This balm-cream contains a formula — which includes a high concentration of La Roche Posay's famous prebiotic thermal spring water — that helps to balance a group of microorganisms that naturally live on the skin, known as its microbiome," explains Dr Taghipour. "The right balance of these microbes can improve the skin's condition, its responses, and ultimately help to reduce eczema flareups." Consultant dermatologist Dr Emma Craythorne also notes that this balm offers immediate relief from itching: "This formula is very soothing — it contains a number of active ingredients that restore the skin barrier, act as anti-inflammatories, and reduce the symptoms of even very itchy eczema."
Best moisturiser with SPF
Wearing certain types of SPF can be tricky when you have extremely sensitive skin. But a good piece of advice is: If you're seeking out specific treatments, always try brands that you are familiar with and not reactive to first. "When buying over-the-counter, stick to products by the same manufacturer," says Professor Wright. "If you don't have a reaction to one of their products, you're less likely to react to that brand's other products because their ingredients will generally be sourced from the same suppliers." Dr Santa Cruz points out that because Cetaphil's range is dermatologically developed, it's likely to be widely tolerated, which is why she recommends their facial SPF cream. "As well as having hydrating, skin-barrier-protecting properties, this lightweight, fragrance-free physical (mineral) sun screen contains much-needed high broad spectrum UVA and UVB protection."
Best eczema treatment with anti-aging benefits
Much like SPF, finding good rejuvenating treatments for highly sensitive skin can be tricky. Dr Santa Cruz likes QMS Medicosmetics as a "sound, science-based brand that develops targeted products with a holistic approach". She recommends the Collagen Sensitive Serums — Day and Night — which use ingredients that are skin-identical, working with collagen to help heal surface inflammation. These concentrated serums enhance skin cell metabolism, help to improve both immediate and long-term hydration (via hyaluronic acid) and, in turn, volume for very sensitive skin. But highly sensitised skin can react in unpredictable ways, so Dr Taghipour recommends always performing a patch test before delving in with a new product, however formulated for sensitive skin it purports to be. "Apply a pea-sized amount of the product to the crease of your elbow and leave it on for 48 hours," she explains. "Alternatively, apply it daily on the same spot for two weeks. If you see any irritation or redness, you might be allergic to an ingredient, or it is simply too irritating for your skin."
Best anti-redness eczema treatment
This minimal-ingredient cream contains neurosensine, believed to reduce irritation, stinging and reactivity, which in turn can help with facial redness caused by eczema. "This cream works for even the most ultra-sensitive and allergy-prone facial skin," says Dr Taghipour, for whom it's a favourite. "As well as containing neurosensine, it spreads and absorbs easily, which reduces the need for excessive rubbing (and thus irritation), and the airtight packaging prevents contamination of the contents." Dr Quinn is also a fan, who describes it as one of his "go-to products for anyone with sensitive skin, from rosacea to eczema".
Best anti-itch eczema treatment
The clever lipid-replenishing formula in this cream — which contains an exclusive active-ingredient complex developed with Avène's thermal waters — has an almost instant effect to reduce itching. "This is a great cream for eczema sufferers — especially those who get it on their faces — because it helps quickly alleviate itchiness for even the most sensitive skin but without clogging pores," explains Dr Granite. It's also formulated without fragrance, without preservatives, and with a pump system that allows the cream to remain contaminant-free even after opening.
Best hand-cream eczema treatment
"If you have dry hands, you need a cream that is easily absorbed and non-sticky so you don't get put off using it frequently," says Dr Quinn. "This one contains a good mix of nourishing ingredients that are naturally high in omega fatty acids, which aid a weakened skin barrier. It also contains dimethicone, which protects dry patches or healing wounds from irritants, and is effective at locking in moisture." At the same time, an ingredient called urea treats dryness and itching like that which occurs with eczema, psoriasis, and dermatitis.
Viera-Newton also ensures she has a bottle of this Gold Bond hand cream in her purse, near her bed, and in her bathroom cabinet: "Whether you're just a little bit dry or suffering from severe eczema or psoriasis flare-ups, this cream is major." It contains oatmeal, which calms the skin and can prevent itchiness; aloe vera, for soothing and hydrating; and vitamin E, which helps build the skin's protective barrier.
Strategist contributor Chelsey Pippin wrote an ode to this beeswax salve, calling it something of a savior for managing her stress-induced eczema: "I use it most days in the morning and before bed. When eczema rears its angry red head, I apply it a bit more liberally and at concentrated spots." The salve contains beeswax, sunflower oil, and shea butter, and though Pippin says she often uses it "several times a day" when her eczema is particularly bad, one tin lasted for a considerable amount of time.
Best medicated cream eczema treatment
"If you are a mild eczema sufferer and don't have a regularly prescribed hydrocortisone cream or ointment, then it's always worth having an over-the-counter strength one in the house," explains Dr Perry. If, for whatever reason, your eczema is worse than usual and you have a flareup, hydrocortisone is a potent anti-inflammatory that will reduce the irritation and atopic allergic component pretty swiftly. Always read the information leaflet if it's your first use — you only need to use it very sparingly, and never on your face.
The Strategist UK is designed to surface the most useful, expert recommendations for things to buy across the vast e-commerce landscape. Read about who we are and what we do here. Our editors update links when possible, but note that deals can expire and all prices are subject to change.