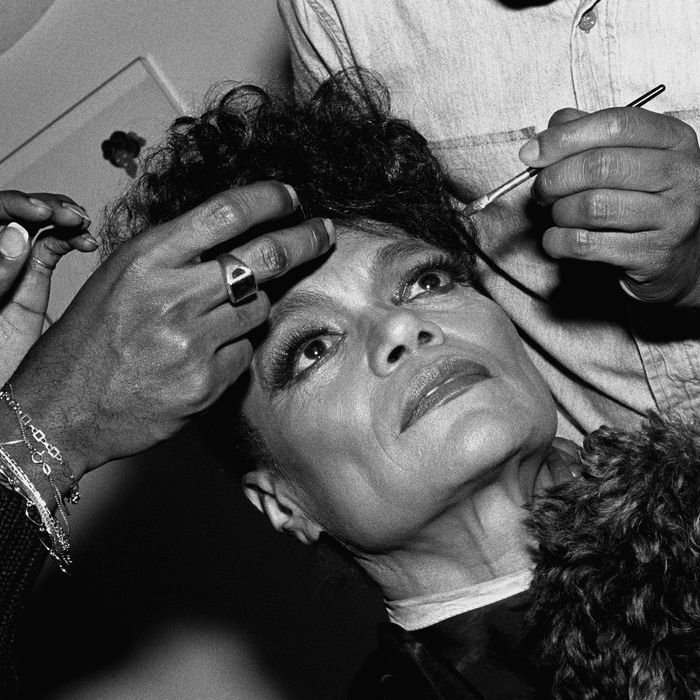 Eartha Kitt gets her makeup done backstage
Photo: Catherine McGann/Getty Images
Just as the moisturizer you used in your 20s and 30s likely needs an upgrade once you hit your 40s and beyond, the same is true of foundation. "As we age, our skin becomes drier and thinner while also losing collagen and elasticity," explains makeup artist Gita Bass (her clients include Toni Collette, Laura Dern, and Debra Messing). "That, combined with the long-term effects of gravity and sun exposure, causes sagging, fine lines, as well as hyperpigmentation." The other feature that tends to shift with the passage of time is the tint of our complexion. "A lot of people lose colour in their face as they age; their colour can become more sallow," adds makeup artist Sandy Linter.
Luckily, though, a plethora of foundation options exists to accommodate these mature-skin needs, as is evidenced by the following recommendations from nine makeup artists. (Most of these run above £30, it should be noted, but our experts emphasized the quality ingredients in their picks, which they say are more important to invest in as we age.) While how you apply your chosen one — whether with fingers, brush, Beautyblender, or what have you — really comes down to personal preference (and, frankly, time), there are, according to makeup artist Tamah Krinsky (whose clients include Gillian Anderson and Keri Russell), a few cardinal foundation rules to keep in mind. First: "No matter how you apply it, keep the product sheer and blend, blend, blend, making sure you get into the folds around the nose, under your eyes, and between the brows," she says. And, start small: "A dime-size amount is usually more than enough for the whole face … you're not trying to cover your face in makeup; you're evening out your skin tone." Finally, every expert we consulted here stressed that it's key to start with a well-moisturized face: "If your skin is dry underneath," says makeup artist Fulvia Farolfi, "there is no foundation that will work."
Best overall foundation for mature skin
Designed to mimic the feel of silk charmeuse, Bass says this is the "holy grail of foundations for all skin types, but particularly for mature skin." That's because it hits all the foundation marks: "It has a gorgeous lightweight feel, it's easily buildable where you need more coverage, and it creates a radiant glow without a greasy finish," she explains. Makeup artist Lucky Bromhead (the personal makeup artist to Catherine O'Hara) calls out its weightless texture and ability to never settle into fine lines, and makeup artist Fiona Stiles (her clients include Gabrielle Union and Elizabeth Banks) loves that the luminosity draws attention away from any wrinkles or imperfections.
Best foundation stick for mature skin
For those who prefer the ease of application that comes with a nonliquid formula, both makeup artist Sarah Uslan (her clients include Olivia Colman and Michelle Monaghan) and makeup artist Lucy Halperin are fans of Tom Ford's Traceless Foundation Stick. "It's so creamy, easy to apply, and has a great shade range," says Halperin. Uslan loves the way it "glides" on and that you can use it sparingly (which is generally good advice for mature skin). "You can just spot-treat areas with redness or discolouration if you don't want to wear foundation over your entire face."
Best full-coverage foundation for mature skin
Proof that appearances can be deceiving, Linter says: "You'll take one look at this foundation and think it's too heavy, but it's not! When you blend it onto the skin, it's beautiful and you can keep building it for more coverage." That the formula also delivers a glow, hydration, SPF, and is packed with ingredients like peptides, hyaluronic acid, and hydrolyzed collagen — all of which become that much more beneficial with age — makes it a real beauty workhorse.
Best foundation with a velvety finish for mature skin
If you're after a finish that's more velvety — meaning less glow-y or dewy — makeup artist Nick Barose (his clients include Jane Fonda, Angela Bassett, and Kim Cattrall) is all about this liquid formula by Armani. "It blends like a second skin, blurs lines, and sets to a nice velvety finish, which helps avoid creasing," he says. A bonus: It also has a subtle lifting and firming effect.
Best long-wear foundation for mature skin
If you're feeling overwhelmed by foundation choices, Bass's advice is to look for key words like "hydrating" or "luminous," which are a boon for skin at any age, but especially when you're older. "Formulas with words like these tend to help bring back the glow that we lose over time," says Bass. But to nail the illuminating effect can mean sacrificing longevity, which makes NARS's Radiant Longwear Foundation a real unicorn. "It has the most amazing staying power and gives a gorgeous radiant finish," adds Bass. To even further seal the deal, you might want to consider dusting on a powder for the final touch, ideally with a fluffy brush to help disperse the particles evenly. (Uslan is partial to Laura Mercier Shine Control Pressed Powder "because it's transparent and very soft and light.")
Best lightweight foundation for mature skin
For anyone with mature skin, Stiles steers clear of foundations with too much pigment: "They just sink into lines and accentuate pore size, making the skin look even more mature." Her favourite feather-light option is Make Up for Ever's Water Blend because "it's thin but still has just the right amount of coverage." To allow the foundation to look that much more skinlike, Stiles says it's all about choosing the right moisturizer as a base. "If someone has oily skin, I recommend a very light, or even matte, moisturizer, so you aren't adding oil to the skin. And if someone is dry, I'll use an oil (like Serum No. 1 from Vanderohe) to give a luminous, glow-y base," she says.
Best tint-as-foundation for mature skin
Ideal for the more foundation-averse among us, Linter likes this sheer tint for its "absolutely gorgeous texture," glow-y finish, and antioxidants that deliver a skin-care boost. "It adds just the right amount of colour to your face so that you look natural but absolutely radiant," she explains. And because it feels more like skin care rather than makeup, daily wear is that much more appealing. The one negative: not enough shades.
Best concealer-as-foundation for mature skin
"I use concealer in lieu of foundation all the time," says Farolfi. "I'm European, so foundation is like a five-times-a-year thing, but concealer is a must every day." For those less-is-more days — and less is often more for mature skin, since, as we said, heavier makeup tends to settle into fine lines — Halperin loves this long-wearing concealer with an easy wand application. "Apply it under the eyes and the T-zone, and blend it out to even the skin tone without using too much coverage," she says. Halperin also gives Dior high marks for its extensive shade range.
The Strategist UK is designed to surface the most useful, expert recommendations for things to buy across the vast e-commerce landscape. Read about who we are and what we do here. Our editors update links when possible, but note that deals can expire and all prices are subject to change.