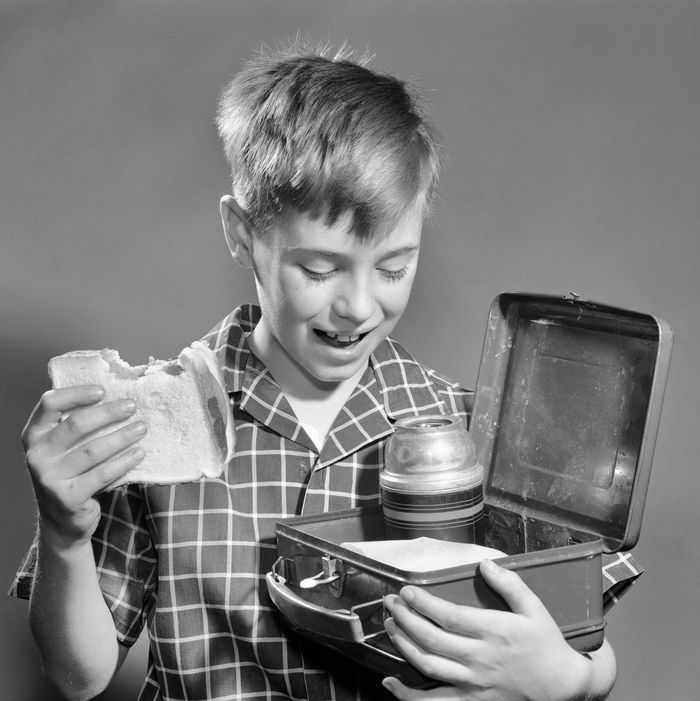 Photo: Debrocke/ClassicStock/Getty Images
School is back in session, which means lunch-packing season is in full swing. Whether you're packing grub for a toddler, primary-school kid, a tween at secondary school, or even yourself, having the right lunch box and lunch gear can streamline the process of getting a meal together, keep the leftover tofu stir-fry from leaking onto the cheddar-cheese cubes, and cut down on extra plastic and waste. But which lunch box to choose?
We asked 14 teachers, parents, and nutritionists to tell us about their favourite dishwasher-friendly lunch boxes, easy-to-open containers, and playground-proof thermoses that are best for kids of every age. And while we've broken the lunch boxes and gear down into age groups here, most of the items here can be used by kids of any age (and adults, if you're looking for something for bringing your lunch to work).
Best overall lunch box: bento-style lunch box
Eight of the 13 teachers and dieticians we spoke to recommended bento-style lunch boxes for kids. These boxes, which can come in a variety of materials, including stainless steel and plastic, allow parents and kids to separate their meal into a variety of smaller portions. "We see many lunch boxes, and by far the most popular seems to be the bento-box style," says Kristin Brady, director of Cobble Hill Play School, who adds that she uses a bento-style lunch box herself. "I think the magic lies in the various different compartments — children love to make their own choices. Even if parents choose the contents, children get to choose the order [in which they eat the foods]. Some of our parents even report letting their children pick the contents for one compartment while they pick the others — this way, packing lunch can be something that happens with children rather than just for children."
PlanetBox was the brand we heard about again and again, for kids of all ages. "PlanetBoxes are stainless steel, so better for the environment, and they come in three sizes, so you can vary based on child size, age, or appetite and have a lot of accessories to tailor to the family needs," says childhood nutrition and feeding expert Jill Castle. Nutritionist and mom of three Lauren Antonucci likes PlanetBox's lunch boxes because they make a healthy lunch look more appealing. "What's really good about that one, especially for the younger and middle kids, is that you can make it look really fun to eat fruits and vegetables by putting different colours of fruits and vegetables in different places," she says of the brand's boxes. "And because all of the little compartments are small, even if you did want to put a treat, it's going to be small." And while the price may seem a little high for a lunch box, the nutritionists and parents we spoke to found that the container was versatile enough to be used over many years. Stacie Billis and Meghan Splawn, co-hosts of the family-focused food podcast "Didn't I Just Feed You," are fans, and so are their kids: "Stacie's 9-year-old has been taking his lunch to school in their PlanetBox Rover ever since he was in Montessori," says Splawn. She uses them with her own kids as well. "I like that it's a single moulded piece, so no crevices where food can get crusty. And clearly they hold up — in all these years, we've only had to buy new insulated sleeves," she says.
[Editor's Note: This product price doesn't take into account additional shipping costs.]
Best lunch boxes and gear for preschoolers and kindergartners
For children in nursery and reception, a smaller lunch box is a better bet, and according to Nicole Silber, paediatric nutritionist with FoodieKid, Planet Box's Shuttle Lunch Box is a good option because it allows kids to see all of their food choices at once, but with only two compartments (as opposed to the more typical five) and a small dipping cup, the options remain fairly simple. "This is a great way to offer variety without overwhelming," says Silber.
[Editor's Note: This product price doesn't take into account additional shipping costs.]
Many of the parents, teachers, and nutritionists we spoke to named LunchBots as another (slightly less expensive) go-to brand for stainless-steel bento boxes for younger children. "LunchBots are really great for little kids who don't need a ton of food," says Antonucci. She suggests adding a main item, like a soup or a sandwich, and filling the smaller compartments with fruits, veggies, cheese, and a "secondary treat," like cheese crackers or dessert. Dietitian Robin Kaiden seconded the recommendation, noting that LunchBots "fit in standard-size lunch boxes" (unlike PlanetBoxes, which require the brand's own carrying cases). Food writer and founder of the Children's Food Lab Jill Santopietro also recommended LunchBots, which she says are "dish-washable, non-plastic, lightweight, and easy to open."
Castle nominates Yumbox's lunch containers as her favourite bento-style boxes. "Yumbox is leakproof, has an insertion that shows what foods go where, so there's some subtle nutrition education, and it's great for reception and young primary school kids," she says. "They have so little time to eat at school and the three compartments hold just enough for my kids to get what they need to eat and actually finish it." Milana Shabekova, director of early childhood education at JCC Brooklyn, told us that these are the most popular lunch containers in her school, and that they work well both for warm foods and cold foods when insulated with an ice pack.
If you'd rather pack food in individual containers, Chloe Smith, a teacher at Saint Ann's School and mother of a 5-year-old, says that she likes Bayco's glass containers and puts them directly into her daughter's unicorn-themed backpack. "She can open the tops of the food containers on her own, so I would definitely say they are kid-friendly," Smith says.
[Editor's note: Bayco isn't readily available in the UK, but these Kichly glass storage boxes are a good alternative.]
"The amount of juice cartons and string-cheese wrappers we throw away over the course of the year is really astonishing," says Nora Painten, science and garden teacher at Red Hook Play Group. She's been reducing waste by packing food in reusable bags: "If my children need an extra snack, I'll use a reusable cloth Velcro bag like the ones by Lunchskins for a sliced apple," she says. "I also love using waxed canvas for wrapping sandwiches." Painten notes that these products can be used by kids as young as 2, but can be helpful for anyone trying to cut down on their plastic use (we've sung the praises of Bee's Wrap before, too).
And for carrying lunch gear to school, Ilona Zeltser, site director of the JCC Brooklyn Windsor Terrace, says that Wildkin lunch boxes are very popular among her program's younger kids. Kristin Brady also mentioned Wildkin as a favoured lunch box brand at her school, too. The lunch box comes in a wide range of patterns, which would appeal to kids of all kinds. We especially like this cheery yellow one.
Best lunch boxes and gear for elementary-school kids
All of the items that were recommended for young kids can be used by older kids (including, as we noted earlier, our winning lunch box, the Rover). But as kids get older, the size of the lunch box will probably get larger. For instance, a growing school kid may want to graduate from LunchBots' three-compartment offering to their larger snack tray. "It's great for kids who like variety," says Billis. "We like that it's dishwasher-friendly. Also, what kid won't be sold on a lunch box that's called a snack tray?!"
For packing a hot lunch, Antonucci recommends Kleen Kanteen's containers. "Kleen Kanteen makes some really good-quality, throw-'em-around-the-play-yard — not saying they should, but they're going to — 'really easy to screw on and off, nothing leaks, you can put hot stuff in there, it'll stay moderately warm' containers,' says Antonucci. "But the biggest thing is they're sturdy, they're durable, they're not going to break, and they're really easy to close, so for those little kids, those work really well."
"We have bamboo utensils that I've had for years and years," says Antonucci, who cites To Go Ware as her favourite brand. "It has a fork, a knife, a spoon, and chopsticks in this cute little holder. Every once in a while, the kid will lose one, but it's still so much better than all of that plastic." She packs the sustainable utensils in her kids' lunches.
Best lunch boxes and gear for middle-school kids
"For older children in primary school, who find lunch boxes too 'childish,' I love Stasher bags as the environmentally friendly alternative to sending single-use plastic," says Silber. "They're reusable, resealable, silicone-based bags that come in different sizes from smaller snack bags that would fit a sandwich." Silber notes that while these might seem a little pricey for a snack bag, Stasher bags are dishwasher, freezer, and oven-safe, so they can be used for cooking and storage beyond packing lunches. Antonucci seconds the silicone pouch recommendation. "You could put a banana in a silicone pouch so it doesn't leak in the backpack — the crackers can go in there, the grapes, the cheese, and they have tiny ones that you could put a smaller serving size in. I use them all the time," she says. The bags were also recommended to us when we asked sustainability experts about the best ecofriendly kitchen items.
Billis told us that for her 12-year-old son, the idea of carrying a lunch box is "mortifying" — "so a brown bag it is," Billis says. "I'm hoping I can at least appeal to his ecofriendly nature so that he'll carry a reusable brown bag." She suggested this waxed canvas lunch bag, which has that classic brown-bag look without the waste.
"For middle-schoolers who are willing to take a healthy salad to school, I love this OXO salad container that has a separate dressing container to prevent soggy salads," says Silber. "The lids are easy for kids to open." She also likes the brand's 'On the Go' container , which "fits both a sandwich and a bowl that can be filled with fruits and veggies."
The Strategist UK is designed to surface the most useful, expert recommendations for things to buy across the vast e-commerce landscape. Read about who we are and what we do here. Our editors update links when possible, but note that deals can expire and all prices are subject to change.