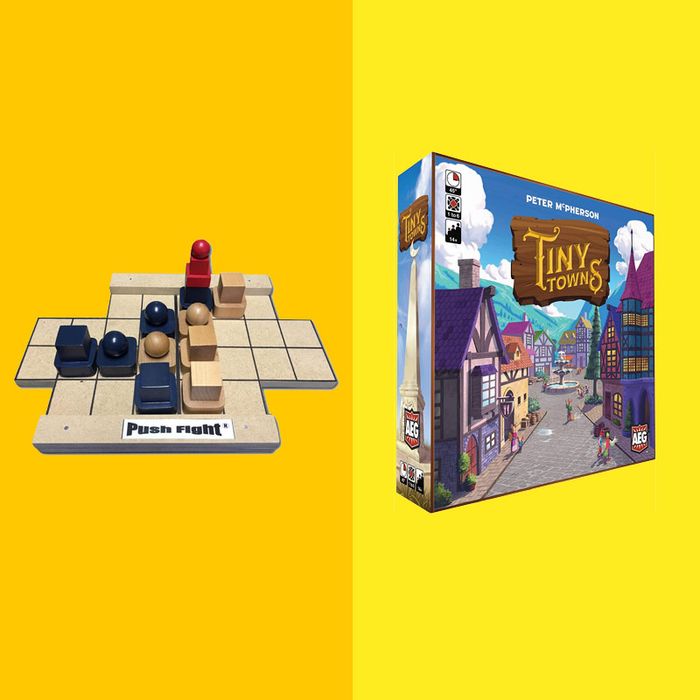 A version of this story originally appeared on the Strategist U.S.
If you're stuck inside and starting to feel a little stir crazy, board games are a great way to pass the time and are a little more stimulating than staring at a screen. Many board games require groups of people to play, but there are a lot that don't, so we asked seven gaming experts to recommend the best two-player games for couples or housemates. "In the realm of two-player board games, there is something for every taste," according to Taryn Gregory, inventory lead at Guardian Games. Read on for their picks, which will appeal to everyone from beginners looking for a lighthearted fantasy caper to advanced players looking for a vexing strategy game. While the majority of the games on this list are made for two players, there are some that can be played by more people — but our experts say those ones are often the most fun when played by just two.
Best
two-player
games
for
beginners
Four of our experts recommended Patchwork, created by accomplished game designer Uwe Rosenberg, as one of the best two-player games for beginners. The game challenges players to strategically collect different pieces to create a quilt. Greg May, owner of The Uncommons and Hex & Company, calls it "the perfect game for couples" that is sure to delight "fans of Blokus or Tetris." Scott Cooper, owner of Blue Highway Games, says Patchwork is his retailer's best-selling two-person game because, although the rules are simple to understand and it only takes about 15 minutes to play, the "subtle strategy keeps it interesting." May agrees: "Games are usually quite close, and there are just enough layers to keep you coming back without dragging things out."
"Codenames Duet takes one of the best recent party games and tweaks it a bit to make it an excellent cooperative game," says May. Three other experts also highly praised the word-deduction game as easy and fun. The rules are relatively straightforward: "Players make associations between words as they cooperate to identify targets with a limited number of guesses," explains Cooper. While the original (which has featured in our most-bought round-up for two months in a row) can be played by up to eight players, this version is designed for two people only. Both May and Lauren Bilanko, co-owner of Twenty Sided Store, note that there are versions of the game specifically geared toward fans of different franchises, including Harry Potter, Marvel, and Disney.
Both Gregory and Bilanko recommend Hive, which Gregory describes as "a bit like chess in strategy and movement, with great pieces and no board." The main objective is to use hexagonal tiles that are each adorned with a different bug and have unique rules to surround your opponent's queen bee. According to Bilanko, "It's fast to learn and easy to play, but the strategy keeps it complex, whether it's your first time playing or your hundredth time playing." The game's resin tiles also make it easy to travel with: "It's portable, so it's great to take to the beach or on a train or to a bar, because you don't have to worry about cards blowing away or getting spilled on," says Bilanko.
"I hate Scrabble, but I love Bananagrams," writes Strategist UK editor Ailbhe — who plays a lot of two-player board games. "It took us a couple of rounds to learn how to play, but it's very easy to pick up. You're basically playing solo Scrabble while also racing the other player. I own the Party Edition, which has a couple of extra rules (such as: If you get the flamingo tile, you need to stand on one leg), but I prefer the classic set when it's two players."
Ailbhe also recommends Dobble, a game that's a little like Snap, but each card has eight symbols on it. "It's fast to learn, fast to play, and horrendously competitive. It needs a lot of counter space, so this is one to play at home. You can easily scale up to eight players, and it's a fun option for kids, too." Romesh Ranganathan told us he's also a fan: "Two of my boys do after-school activities on Zoom these days, and so sometimes me, my wife, and our youngest will just go upstairs and play a few rounds while they're on the laptops."
When we looked at the best-rated board games on Amazon, Jaipur, a two-player card game, was highly recommended. Reviewers liked the fast-pace — players must trade items to amass rupees, and it only takes 30 minutes to complete — and the gorgeous illustrated cards were also singled out. The original version has sold out, but a second edition, featuring the same gameplay but with different box art, is widely available.
In Imhotep: The Duel, players try to win the game by unloading ships from a shared waterfront and earning points by collecting six different types of goods, according to Andy Matthews, the founder of board-game review site Meeple Mountain. "This game is everything I want a two-player game to be: It's streamlined, it's tactical, and it's fun," he says, adding that because there are a limited number of choices during each turn, every decision is important. Typically, playtime runs 30 minutes, and "in an average game, you might only get 15 or 20 turns."
For a lightning-quick, pick-and-pass-style card game, Bilanko loves Sushi Go!, which she says is very easy to learn but still fun enough to play over and over again. The aim is to collect cards to create collections of dishes for different point values, and whoever scores the most points wins.
Joe Jonas told us about this "extreme" form of Uno that he plays with his wife, Sophie Turner. "As with the original Uno game, the goal is to get rid of all your cards first," he explains. "There's a gadget that dispenses the cards, so you can get one or you can get six. Sometimes you just keep racking up all these cards and you're like, "Oh great, I have half the deck." It takes a lot longer than a normal game of Uno, but it's way more fun."
Best
intermediate
two-player
games
"The Fox in the Forest is a fun, medium strategy game with really lovely art, making it a game to enjoy while relaxing," according to Gregory. The card game's general objective is to score more points than your opponent by winning more tricks. Cards feature various characters, and players use them to change the trump suit and take the lead, according to Daniel Kilbert, owner of The Compleat Strategist. It's ideal for players who prefer a a bit of fantasy in their gaming.
Bilanko describes Tiny Towns as a "resource management game," in which players attempt to construct their own towns using the cards and pieces available on the board. Tiny Towns is designed for two to six players, so couples or flatmates can play by themselves or whip it out when hosting a larger game night. "It's really versatile and it scales really well," Bilanko says.
Caper is the best-selling board game on the Strategist UK, appearing in our most-bought list for four months in a row. It combines elements of a drafting card game (players start with a handful of cards and then take more to build a stronger hand) with a whodunnit-style murder mystery along the lines of Cluedo. But unlike Cluedo, which is best played with a group, this is perfect for a pair, says Bilanko. "Usually you see mechanics like this in games where you have to have three or more players, because of the intrigue level." The game allows players to hire and equip a crew of thieves, who then attempt to plunder famous sites across Europe. It's wacky, colourful, and fun, according to Bilanko, who adds "the artwork is amazing to look at."
Star Realms is a "medium-weight strategy game that plays quickly," says Gregory, so it's suitable for players who like a challenge but don't want to spend their whole afternoon on the same game. The game combines elements of deck-building as you seek to build up your military, as well as the interactive component of trading-card-style combat as you face off to attack your opponent.
For a more tactile game, Matthews suggests Shobu, an abstract strategy game where players take turns maneuvering their stones on four different boards, hoping to push their opponent's pieces off. "If all four of a player's stones are lost on any single board, the game ends in victory for their opponent," he explains. It's similar to chess, Matthews says, but better designed, with wooden boards and river stones that give the game "an air of thoughtfulness." [Editor's note: This product is currently out of stock.]
Best
advanced
two-player
games
According to May, Twilight Struggle is "widely considered the best two-player game — and one of the best games of all time." The historical game takes about three hours to play and simulates the tension between the Soviet Union and the United States during the Cold War. Gregory calls it a "perennial favourite among hardcore gamers" that is "very strategy-heavy." It can seem a bit overwhelming at first, but she says it's worth the investment because "every card is unique and interesting" and the game play has a "fine-tuned balance and variety of options." (Gregory especially recommends it for anyone who likes to play Risk.)
Sherlock Holmes: Consulting Detective is a "challenging, absorbing, and quietly immersive" game that asks players to sift through a box of old newspapers, narrative vignettes, and clues to solve a mystery that "puts you and your partner right at the centre of the story," says Dr. Michael James Heron of Meeple Like Us, a board-game review site with a focus on accessibility. "It's best for those with some time on their hands or those who like a challenge, because "it's a slow-paced, cerebral affair of poring over evidence and making deductive leaps." The box contains 10 different mysteries and can even be played solo if your flatmate decides to tap out.
For an abstract strategy game that's a little more challenging than Shōbu, Matthews loves Push Fight, which he says "hums like a perfectly tuned engine." Each player has five pieces: Three large, square pushers and two small, rounded pawns, which you must navigate around a 26-space board. "The object is simple: Push just one of your opponent's pieces from the board," he says. But the tension of the game lies in the small size of the board. "Every move carries huge importance, and one misstep can spell instant doom," according to Matthews.
The Strategist UK is designed to surface the most useful, expert recommendations for things to buy across the vast e-commerce landscape. Read about who we are and what we do here. Our editors update links when possible, but note that deals can expire and all prices are subject to change.