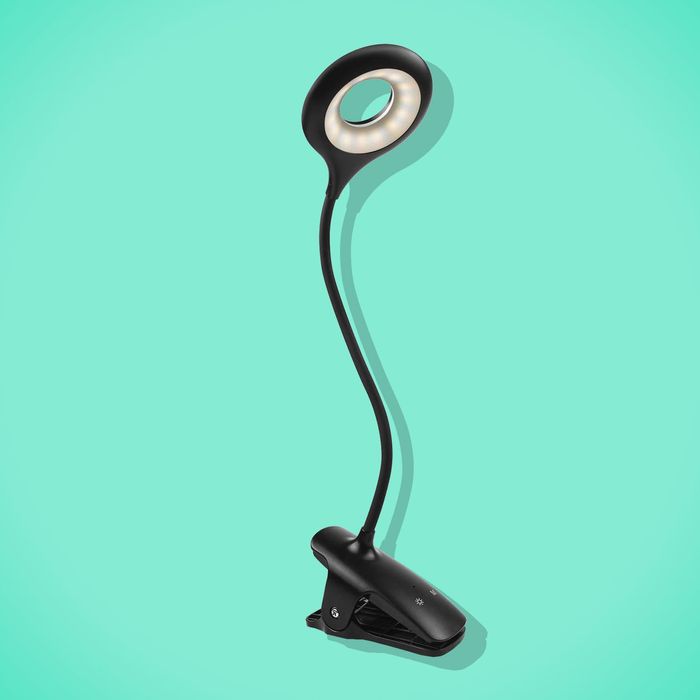 I've never been a great sleeper. The only thing that reliably sends me to dreamland is some solid reading time before bed — a disconnection from screens and reality. Nights when I don't read before bed are more often than not fraught with extra anxiety, tossing and turning. I've known this about myself since I was a kid — I would budge myself up as close as possible to the window to read by the light of street lamps until my brain quieted down.
But when I moved into a new flat last year, I ran into a problem: There were no outlets anywhere near my bed, and there was really no way of arranging the bed otherwise. I tried a few different setups, like turning on my old plug-in reading lamp across the room — that wasn't particularly effective, as it was bright enough to keep my partner awake, and I had to get out of bed to turn it off, which tends to wake me all the way up again. I then bought several pocket-clip on book lights, but it felt truly impossible to get one that didn't exclude harsh white or blue light, which can even keep less sensitive sleepers than me from successfully winding down. Essentially my dream would be to read a paperback by candlelight every night before bed, but you can see how that might prove dangerous.
So what I needed was a decently priced lamp that would work in my small space, run on battery power, and illuminate with warm yellow or orange light (as opposed to most inexpensive options, which use that dreaded, abrasive blue or white). With some digging and clever keyword searches, I found a rechargeable light by Semlos, which ticked all my boxes and then some. It was inexpensive (£14), it was USB-powered with a week-long battery life, it offered a spectrum of light — from white to the warm yellow I was looking for — and had a dimming option.
The first night I tried it, I cosied up at bedtime with Lucy Ellman's Ducks, Newburyport, and played around with the settings to see what made me feel most relaxed and able to read. Controlled by touch, the lamp offers three light tone options: white, warm yellow, and a mix of the two. It also includes three dimming settings: low, medium, and high. The spectrum of light option coupled with the dimming levels (both controlled via touch) are the real winners here. After trying a few options, I landed on a perfect-for-me Goldilocks combo — mixed white and yellow light at a medium glow. And, as a bonus, because the lamp includes a flexible neck, I can easily twist it around to achieve the exact softness of light that I wanted.
The low, warm settings are perfect for winding down, and while working from home, I've actually made use of the harsher white light at the opposite end of the spectrum — both my partner and I have used it to light evening Zoom calls, with the added bonus that it moves very easily from room to room. The fact that this lamp runs on USB power rather than batteries doesn't just make it less clunky and more environmentally friendly, it also means that if I forget my short weekly charge up, I can easily plug it into a portable charger and carry on reading as if it never happened. Not to mention it's flexible and can clip on to my headboard to maximize book stacking space on my tiny bedside table.
I've owned the lamp for over six months now — and can't bear to part with it. Between lockdowns, I relocated to stay with family and took the lamp came with me (you never know what you're getting in a guest bedroom, you know). Lastly, if you needed any more reason, I find it's an excellent tool for flat-lay photos — light and easy to position to create the right lighting and minimize shadow: perfect for taking photos of my (ever-growing) to-be-read pile.
The Strategist UK is designed to surface the most useful, expert recommendations for things to buy across the vast e-commerce landscape. Read about who we are and what we do here. Our editors update links when possible, but note that deals can expire and all prices are subject to change.