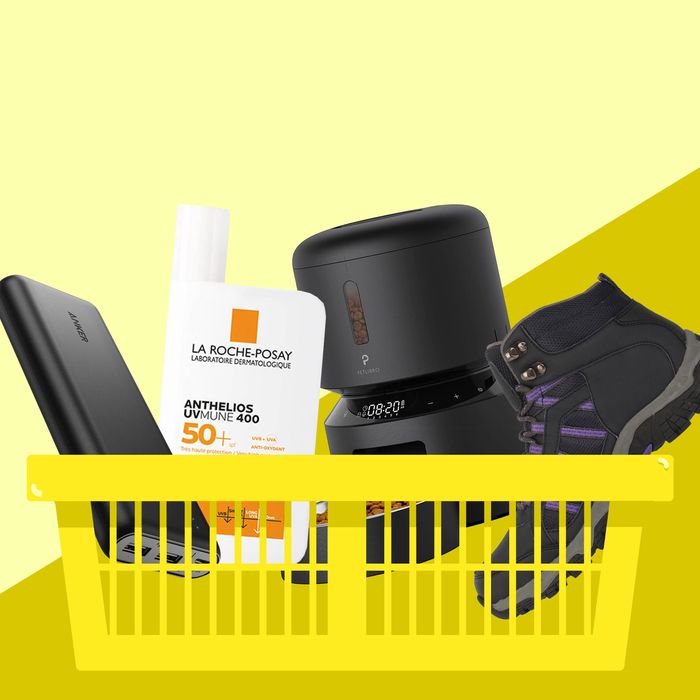 Photo-Illustration: The Strategist; Photos: Retailers
If you follow our monthly feature "Your Shopping Cart," you know we have some eerily good intel on what you all are buying. Which led us to think that, as Strategist editors, we could turn the tables and highlight all the things we've been buying for ourselves. As you'll notice, it's both a blessing and a curse to be a Strategist editor; we're picky, but sometimes we just have to get on with it. (It's online-shopping expertise meets IRL needs.) Below, what we all bought in June.
Tshepo Mokoena, acting senior editor
Photo: Retailer
After sweating through a techno night during an early-June heat wave, I figured cosplaying as an '80s aerobics instructor couldn't hurt. Jeans had been a foolish choice. I needed cycling shorts. Ahead of a warehouse party — honestly, when did I become someone who regularly goes clubbing? — I picked up these USA Pro shorts in one of Sports Direct's seemingly never-ending sales. I've got long legs, so there are shorter inseam options too, but these were perfect for a casual look with denim in the pub followed by hours of dancing. They don't sag but also don't have pockets. Next on my list: a leather bumbag.
An earlier version of this sunscreen lifted me from the abyss of an 18-bookmark hunt for sun protection in line with my sensitive, melanated skin. That means no fragrance and no white cast left on my face after applying enough SPF. I'd used La Roche-Posay's SPF 50+ fluid sunscreen for years, stocking up before they reformulated it this spring. It's runnier now, which can be annoying, but still glides on and leaves you with a subtle glow. There are lots of scientific reasons why the new UV filter is wonderful, but my new bottle will remain a staple because it feels great, doesn't break me out, and works for just about all skin tones.
Chris Mandle, writer
Most of my purchases this month — a pop-up tent, camping mats, inexpensive pillows — were for Glastonbury. I already have a small, vape-size charging pack for my phone, but wanted a larger one my boyfriend and I could both use while enjoying a well-deserved sit-down at the festival. I looked at our Best of Brand story on Anker, but thought the bulkiest chargers seemed a touch too big for a festival. In the end, I settled on the 20100 model, which can charge a single iPhone 8 around eight times.
For a few days camping, I needed something both more breathable than my Rains coat and easy to fold down and stash away. I remembered Anthony West, singer in Oh Wonder and founder of Nola coffee shop, telling me about the Peter Storm over-the-head cagoule he keeps in his car. He told me the huge zip pocket on the front was handy for storing essentials, and the whole thing rolled down to the size of a can of beer. I ordered it online immediately. It has adjustable toggles on the sides so you can neaten it slightly (I opted for a small, but it's a loose fit) and a sort of pleasing normcore-dad aesthetic.
Audible and I are in a "Ross and Rachel" situation where we live in relative harmony, then suddenly break up, then get back together, and so on and so on. After staying away for a while, I signed up for it again this month, drawn back by a new David Sedaris book (loads of his catty, curmudgeonly musings soundtracked my 2020 lockdown walks around London). I've been in a reading rut since I stopped commuting, so it's been nice to pipe something literary into my ears on my lunchtime walks.
Rosie Percy, associate director of audience development
Beauty contributor Daniela Morosini called the Lanolips 101 ointment her "favourite lip balm by a long shot." There was my introduction. And when my lips went through a particularly dry phase, the multiple half-used tubes of Carmex languishing in my drawers and coat pockets weren't cutting it. Lanolips' thick formula sounded like it would do the trick, and I thought the coconut scent would be perfect for summer. Within days of my tube arriving, I ordered another: That's how good this lip balm is. It's so thick that you don't need to swipe on loads, and you can really feel it nourishing your lips. It smells incredible, too. I'm now a Lanolips convert. Job done, Daniela.
Recently, after a particularly tiring run, I threw my Anker headphones in the wash, zipped into the pocket of my Lululemon leggings. Suffice to say, they didn't make it (no matter how long they sat in rice). I knew that over-ear headphones would be harder replacements to forget about, but I get too hot under them when I'm running and didn't want to spend too much on more earbuds in case of other accidents.
The Tozo earphones had been best-rated on the Strategist before, with over 182,000 five-star reviews. And the already affordable earphones were also on sale, meaning I wouldn't be too sore should they be involved in another … laundry-related incident. They're bass-y with a snug fit (even during sweaty runs), and the touch-sensitive controls make skipping tracks easy on the move. I think I even prefer them to my Anker set; may they rest in peace.
Rachael Griffiths, writer
I've written a lot about Nike's One Luxe leggings before, so when I spotted them in the Sports Direct sale, I decided to dig for other deals. That rigorous sleuthing — a.k.a hitting "price: low to high" — led me to another pair of grey Nike leggings … for £12? Done. They're absurdly comfortable, with just the right amount of compression and stretch for both WFH and my weights sessions at the gym. They're flattering, too (yes, that matters to me), and have a concealed pocket to pop my phone in as I'm exercising. I can't believe how much I love these leggings — and their sale price, of course.
Glastonbury approached. It had been a few years since my last camping festival, so I invested in this pair of waterproof boots from Gelert (also heavily discounted at Sports Direct at the time). I'll spend weeks sewing and sourcing festival outfits but don't care about the aesthetics of what's on my feet, as long as I'm comfortable. That being said, I actually quite like the matte black-and-purple look of these boots. As always, to account for thick socks, I went half a size up, and the fit was ideal.
For my sins, I fell for an excellent marketing ploy at a university P&G careers event. The seminar leaders told us we could take home as many of the displayed product samples as we could carry. And as a skint student, I thought this was just an act of kindness; instead, the bottle of Lenor Unstoppable that I made off with sparked a lifelong dependence. I would go out of my way to pick up the laundry scent-boosters from the local Tesco, and they weren't cheap for my student budget. Still, they're worth it. How else would my sheets still smell as good when I change them at the end of the week? Exactly.
Fern McErlane, intern
Photo: Retailer
Breaking in Docs always seems more brutal a process for me than other people I know. After buying some Sinclair platforms, I'd stocked up in advance on Compeed plasters — but my feet still felt the wrath of the boots' unyielding leather. Guides on breaking in Dr. Martens seemed to point to a common (and convenient?) factor: the brand's own "Doc Socks." They are not cheap, at £10, but after trying out a plain black pair, I had to admit that they worked. I've since bought two more (they come in a range of cute designs) and conceded this double victory to Dr. Martens.
The Strategist UK is designed to surface the most useful, expert recommendations for things to buy across the vast e-commerce landscape. Read about who we are and what we do here. Our editors update links when possible, but note that deals can expire and all prices are subject to change.