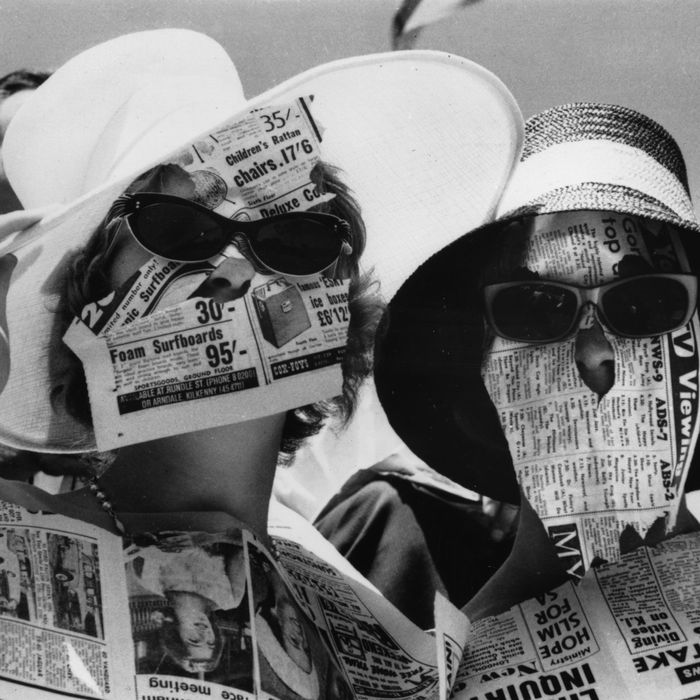 Photo: Keystone/Getty Images
Although fabric face masks have been recommended by the government when leaving the house since May 11, as of today it is now mandatory to wear them on all forms of public transport. Grant Shapps, the transport secretary, said in a statement that coverings must be worn on all forms of public transport (including buses, trains, and coaches) but that very young children, disabled people, and those with breathing difficulties would be exempt.
As a glasses wearer, I've been wearing a mask whenever I leave the house for a few weeks now, but time and time again I've come up against the same problem: my glasses steam up when I wear a mask. Worse still, due to the thickness of my mask and the fact my glasses are already a bit knackered, my glasses don't sit on the bridge of my nose properly when i wear a mask — instead, they slide down and practically dangle, especially if I bend down to tie my shoe, or look both ways before crossing a road. On a trip to Sainsburys recently, my glasses fell completely off my face, twice — and given the dire state of my vision, this doesn't bode well.
The easiest fix, says Specsavers clinical director Giles Edmonds, is to avoid wearing glasses altogether. "Our advice, particularly for NHS staff and other key workers, [has been] to try and wear contact lenses where possible," he says. This might not be an option for a lot of people (I stopped wearing lenses a few years ago). Thankfully, a spokesperson for ABDO, the Association of British Dispensing Opticians, told the Strategist that "We are expecting a standard operating protocol to come from NHS England" on how to wear a mask and glasses "in the coming weeks"
So, in the meantime, I asked experts who wear glasses and a mask every day, including an operating theatre nurse and a frontline worker, for their tried-and-tested methods to successfully wear a mask with a pair of glasses. The good news? There's actually plenty of easy solutions, from washing-up liquid to the way you tie your face mask straps.
How to stop your glasses fogging up when you wear a mask
Fogging is caused when the face mask prevents adequate ventilation, according to James Dawson, a Dispensing Optician Councillor at the Association of Optometrists. "An anti fog treatment can help," he says. These come in the form of sprays of wipes and work by preventing condensation forming on surfaces.
NHS worker Jamie Makin applies washing-up liquid to his glasses to stop them steaming up. "It forms a layer that prevents condensation," he explains over email. "I apply it straight from the bottle to my lenses: a tiny, pea-sized amount is enough. Let it dry for 15 minutes, then buff it off. Make sure you do both sides, too."
However, beware that some experts do not advise using washing up liquid on your lenses. Dawson says that using liquid soaps is "one of the most common reasons for scratches and coating breakdowns. It contains salt, which acts like a scourer on the surface." He says he would always advise against the use of washing-up liquid.
How to choose the right fabric face mask to wear with glasses
"Glasses fogging up is an age-old problem for us," says Deirdre Downey, who has worked as an operating theatre nurse for the last 20 years. "Some of the problems people are encountering at the moment are because of the type of mask or face coverings they are using — it's likely they are too loose."
Downey says the looser the mask is across your cheeks and nose, the more air will leak upward toward your glasses, causing them to fog up. "You need to make sure that the face mask fits tightly around your nose and cheeks as this reduces the amount of breath escaping and causing condensation on the lenses," adds Edmonds.
If you own a mask with two horizontal straps, rather than a strap on your left and right sides, you can use this to your advantage, says Dawson. "If it doesn't compromise the effectiveness of your mask, try tying the top strap tighter and higher than the ears, allowing your spectacles to sit correctly." This also works with elastic straps; I personally put the lower strap on, then my glasses, and secure the top strap over the legs of my glasses, securing them in place.
Another solution is to choose a mask which has a wire insert across the top, which allows the user to almost sculpt the mask around their nose. "If you wear glasses, it's the most important feature to look for when searching for a mask," says Stephen Sheldon, founder of shapewear company Luxury Legs, which recently started producing their own face masks. "A good fit is also essential if you want to avoid touching your face unnecessarily when out and about."
You can achieve the same effect with a home-made fabric mask, according to Downey, by sewing a pipe cleaner or even a stiff plastic bag tie into the bridge of the nose.
These masks, by Little Prints Kids, feature a wire insert along the top.
How to keep your fabric face mask securely on your face
If you already own a mask but it fits poorly, both Downey and Edmonds say you can secure it in place using tape. "In theatre we use medical tape across the top of our mask, along our cheeks and the bridge of the nose. This helps with the air heading toward your glasses, which are cooler and therefore fog up," says Downey. She recommends medical tape, as it is gentle enough to use on your skin — specifically Micropore and Sleek tape. "These are generally the most used kinds."
Sheldon says that "the nose pads of your glasses should be resting on your mask. This will help secure it in place," while Downey adds that "bringing the mask down low on your nose before you tape it definitely helps. I've seen this trick used by nurses and surgeons in Ireland, Australia and Saudi Arabia. It's widely used around the world."
How to stop your glasses falling off while wearing a face mask
There are a number of variables that might be causing this — including your glasses being worn or wonky. "Some frame styles emphasize the issues," says Dawson. "You could look at frames that have adjustable nose pads to give a better clearance — this can also help with the steaming up problem."
Makin suggests digging out that glasses repair kit you got in a Christmas cracker last December. "Keeping the screws on the arms of the glasses as tight as possible will help reduce movement and have them hold on to the sides of your head as firmly as possible," he says.
Another Strategist-recommended mask accessory
Photo: Christopher Mandle
Strategist UK writer Chris Mandle took a punt on these silicone grabbers (originally used by cyclists), and was astonished by how well they worked. They slide on the ends of your glasses and, due to being angled downward, almost grip around your ear, keeping them from slipping off. He writes: "I tested them out by running up and down three flights of stairs in my block of flats — and sure enough, my glasses stayed in place. Now doing the food shop, or even just walking to the park, is less fraught."
The Strategist UK is designed to surface the most useful, expert recommendations for things to buy across the vast e-commerce landscape. Read about who we are and what we do here. Our editors update links when possible, but note that deals can expire and all prices are subject to change.