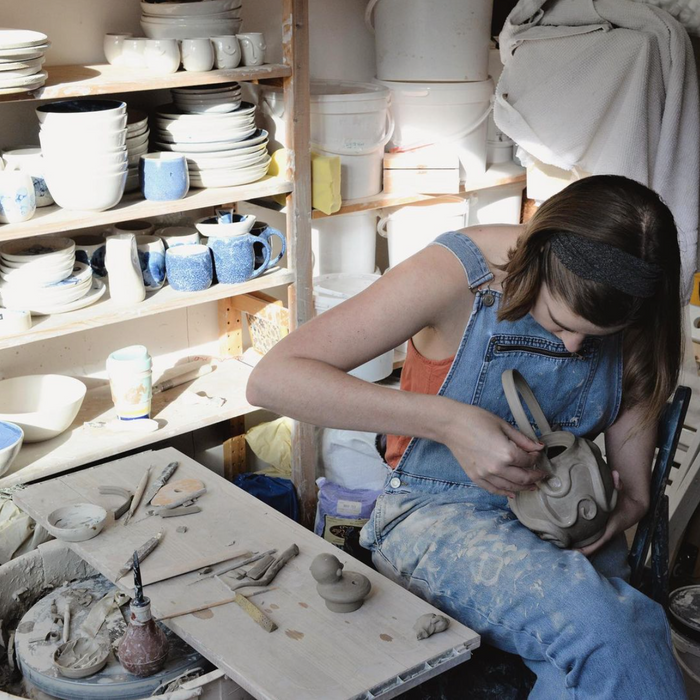 Author Elizabeth Macneal first made a name for herself with the 2020 release of her debut novel, The Doll Factory, which went on to become a Sunday Times best-seller (it's also currently being adapted for TV). But you might know Elizabeth better for her ceramics, such as her decorative bowls, mugs, and incense holders, which she has been making from the comfort of her garden shed for the past six years, all lovingly documented on her Instagram page. Ahead of the release of her second book, Circus of Wonders, out May 13, we asked Elizabeth to tell us about the indispensable tools she uses to make her ceramics, from the tungsten-tipped trimmer she orders from Instagram to the jumbo sponges she uses to keep her floors clean.
My wheel is from a company called Shimpo; they're sort of the premier wheel supplier for the U.K. They're where most of the pottery suppliers recommended. I was told Shimpo was considered the workhorse of pottery wheels, and Access Pottery, where I was briefly a member, used these. The basic setup includes the wheel, which is metal, and the tray, which catches the excess water that comes off the wheel. There's also a pedal, and the wheel plugs into a regular socket. Shimpo in particular has a very good clip mechanism, which means you can remove the tray easily and wash it up.
Wheels are expensive and tricky to find; I managed to buy one secondhand on eBay. Don't be afraid to buy secondhand, as long as it's from a reputable brand and as long as it isn't too ancient. I bought mine from someone in Fife, because I knew I could pick it up during a visit to Edinburgh, where I grew up — my husband and I brought it back on the train with us. It weighs an absolute ton, but you can screw the legs off, which makes it easier to transport.
Before this, I got an inexpensive wheel because I didn't know if my interest was a fad or not, but that started to make more noise because it was running on a belt, rather than a motor. Mine is practically silent now. There aren't many wheel manufacturers in the U.K, but an inexpensive option might be just as good if you're starting out.
These are shelves that screw into the wall, rather than freestanding. As I'm working, I have a board that I put my pots on while I am throwing them. And then I lift the whole thing up and put it on the shelves. With freestanding shelves, you can't move things around as easily. These are ideal so I can lift my wet boards directly onto the shelving one by one, and lift them off, rather than having to lift my individual pots onto a surface. The one thing I would stress is be very careful to screw your shelves into the wall itself, rather than into the plasterboard. I learned this after losing around a thousand pounds' worth of stock in the run-up to Christmas several years ago — the shelves just came right off the wall. It was my Linda Barker in Changing Rooms moment. [Editor's note: This product is available as an instore purchase only.]
Photo: retailer
Trimming is when a pot has been thrown, and it's "leather hard," so has dried out a little bit. And that's when you put it back on the wheel and you trim off the excess clay. If you have a sharp tool, it's the most satisfying part of the process. The clay will ribbon off so easily and leave your pot nice and smooth. But loads of trimming tools in the U.K. are made from steel and ordinary metal, which blunt very easily and very quickly — and they rust, too. I used to spend ages with a blunted trimming tool, which can actually break your pots, as you end up applying too much pressure to them. I'd go through one every couple of months. I then got myself a tungsten tool, which cost $55, but it was totally worth it.
I got mine from a Russian man named Fabiana Chagas, whom I DMed on Instagram. He came recommended to me by another potter and I've since recommended him to lots of other people. The loop at the end of the trimmer is made from tungsten, which is quite a fragile metal, so you need to be careful with it. But it's so strong that only diamond can blunt it, apparently. I really like the wooden handle on this, too. [Editor's note: You can DM Ovo on Instagram to purchase, or peruse their online shop.]
If you're just getting started, I recommend looking for a trimmer with a flat base, rather than a loop; these will help you get a nice flat bottom on your pots, and will make sure that the foot ring is flat — a foot ring is the amount of a pot, mug, or bowl that actually makes contact with a surface.
There are plenty of places to order clay, such as Clay Cellar and Scava. But Bath Potters are just a really nice bunch of people. They're really helpful, and often my order will arrive in a couple of days. I typically buy quite a lot at a time, as postage can cost a lot due to the sheer heaviness of the clay. I will buy 200 kilos at once, and it comes wrapped in plastic and will never go off — it just sits there until I'm ready to use it. The things that you want to check are that the clay is suitable for what you want to use it for — on its website, they usually specify whether a clay is good for wheel-throwing or hand-building. The one I keep returning to is the white stoneware clay, it's so smooth and well-behaved, and it hardly ever cracks. Glazes look so lovely on it, too, because it has such a pale body. You can always reach out to a supplier and tell them what you're looking for, and they'll be able to help. [Editor's note: Elizabeth's preferred colour is sold out, but we found a similar stoneware clay still in stock.]
Since I buy my clay in bulk, a wire is indispensable. You can buy all kinds but I have this one, which is two sticks with a wire connecting them. It's like a cheese wire. You can cut down the bigger chunks, and you can also use this wire to go gently under your throw, in order to get it off the wheel. They're incredibly useful.
I've been wearing masks before they were fashionable. Basically, I'm a complete hypochondriac, and I'm forever paranoid that I'm about to contract silicosis, which is a disease that can affect potters if you don't take precautions. It's caused by dry clay particles (which are far finer than street dust) getting into your lungs, and it can actually be fatal. So it's really important to take good care when you're working, and ensuring there isn't too much dry dust in your studio. Ventilation helps, as does mopping down your floors frequently. But when I'm dealing with anything that involves dry dust (such as glazing), I'll always wear a dust mask. I get the FFP3 dust masks, which filter out the smallest microbes from dust and glazes. It's a lot more intense than a normal fabric face mask. But it's comfortable to wear, moulds to my face, and they're very easy to unclip, too. No mask is going to be enjoyable to wear because they do steam up, but you can breathe quite easily in it.
I use a mop which has a detachable head. This is particularly good for keeping my studio clean as the flat bottom can just be taken off and put in the washing machine. It's really important, when you're dealing with clay or glaze dust, to be able to wash the mophead completely. Typical mops, with the tassel-style end, are a lot trickier to wash thoroughly — you could just end up moving the particles around.
Massive sponges are essential for wiping down surfaces. I have smaller sponges that I use, too — a sponge on a stick is essential when you're throwing cylinders, as it helps you get all the excess water out of the base. If there's water in the base, it's more likely to crack. I pick them up in bulk at the supermarket.
Finally, a kidney. These are also very useful for smoothing off the clay after you've finished throwing. The liquid clay on the outside is known as "slip," and this is a good tool to have to hand. I also sometimes use them for hand-building because it helps keep the surface of the clay nice and flat.
The Strategist UK is designed to surface the most useful, expert recommendations for things to buy across the vast e-commerce landscape. Read about who we are and what we do here. Our editors update links when possible, but note that deals can expire and all prices are subject to change.