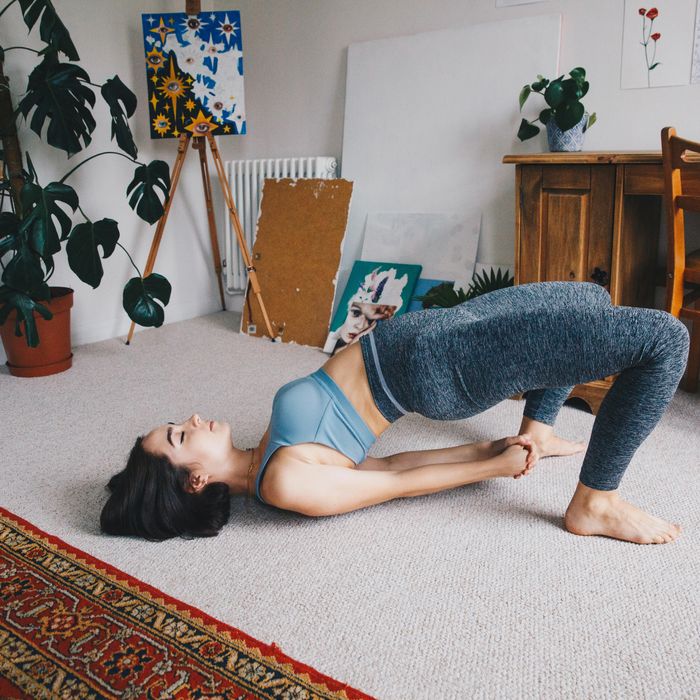 As a teenage nerd — who preferred to do everything at home rather than go out, I was an early adopter of online yoga. Though I've been to a fair few actual yoga sessions since I started following online yoga tutorials ten years ago — at the age of 17, I've always remained loyal to my home routine.
At the moment, we don't really have the option of doing yoga anywhere but in isolation. However, I still stand by my belief that there are a great many advantages to working out exclusively at home. You don't have to go anywhere (so there are fewer excuses for you not to do it), it's cheap — if not completely free — and if you can't stick both your legs behind your head there is no one around to make you feel like a loser for it. After a decade of being an at-home yogi, here are all the things you need to flow, no studio necessary.
Yoga Mat
You will definitely need a mat of some kind if your floors are hard; and even if you have a carpet you will likely want a mat to avoid carpet burn. Expensive or fancy mats aren't necessary, but often the cheap ones are just rubber without any grip. I would recommend something moisture-wicking and with resistance, otherwise you will be focusing more on not sliding off your mat during warrior two rather than on your form. Additionally, your yoga mat will eventually get trashed and you'll want to replace it, so I recommend opting for a biodegradable one. I've found that all my yoga mats are tattered within a few months (rotating your toes while moving from plank to upward dog will do that), and throwing away 2 meters of pure plastic made me feel like a criminal, so I was extremely happy to find this Sweaty Betty mat that's fully biodegradable. It has great grip — just as good as latex or PVC mats. So far, four months in, it still looks new, so here's hoping it will remain in great condition, but if and when I have to replace it, I will at least feel less guilty about it.
If you want a cheaper alternative, this is a great option. A yoga mat with some grip is all you need — and the Yoga Matters "sticky" mat doesn't slip on hardwood floors, and keeps you perfectly stable even when you're sweaty.
Mat Cleaner
Look, your mat is gonna get gross. You're only human. You can make your own mat cleaner, but if you're feeling fancy (and didn't think to stock up on vinegar) this one very effectively gets rid of the smell of your sweaty feet with the much preferable smell of lemongrass.
Alo Moves Subscription
I find a monetary commitment is a great motivator — and it's good to support your favourite yoga tutors, who are often freelancers. I love Alo Moves because there seems to be an endless supply of lessons and tutorials — not all of them yoga, with many concentrating on mindfulness and meditation, as well as more straight-up workout routines. There are dozens of instructors to choose from, and each instructor has several 'series' of lessons. You can pick lessons and series by difficulty or by tutor; I prefer just going to the specific tutors I already like. I am obsessed with Talia Sutra and her flexibility series — the six 30-minute sessions are super challenging and really force you to try new poses. I also love Briohny Smyth for more strength-focused exercises and her instructional style is really precise. You can try an Alo Moves subscription for free for 14 days, and they also have plenty of free flows on their YouTube channel to give you a taste. You can use the service either on a desktop, app, or your TV via Airplay/Chromecast.
Yoga blocks
For a long time I simply refused to buy any yoga blocks and instead used randomly sized books. I eventually caved when I decided to perfect my splits, and they've honestly made such a difference. You really need something sturdy and just the right height to help you relax into a pose effectively. Attempting to train yourself into difficult poses that require a lot of flexibility without additional support such as this can lead to you hurting yourself from practicing improper form. I love these blocks because the simple cork colouring means they also double as a great laptop/plant stand when you're not using them!
Leggings and top
Of course, you can do yoga in anything comfortable, but there is a reason why most people do it in leggings and a top and it's not just for the aesthetic. The less fabric you have around your body, the more you're able to keep an eye on your form — a baggy T-shirt is comfortable until you're in downward dog and a whole load of fabric falls over your face. For this reason, I stick to wearing sports bras or vests only. I never wear anything with sleeves — doing arm balances like crow pose, firefly pose, or bhujapidasana will be near impossible if you're pressing slippery polyester against slippery polyester. I am obsessed with the sets made by Girlfriend Collective — soft fabrics made of recycled plastic bottles, the nicest colours, the range of sizes is great — from XXS to 6XL. The Paloma bra is especially good for doing yoga — minimal enough that it doesn't get in the way, long enough so you don't feel entirely exposed, and cute enough that you can also just wear it as a regular top.
Yoga-specific leggings like these Manduka ones are also great for a variety of reasons; They're softer than those designed for running, allowing for a broader range of movement. You don't want any zips or pockets that will be uncomfortable during poses, and you especially don't want a back pocket zip to ruin your final savasana. I love my Manduka leggings — I have had a pair for four years and they're still going strong. I love that they're also made of recycled fabric.
Micro Plastic Waste Wash Bag
All your lovely leggings, though they may be made of recycled polyester, will still produce micro plastics that pollute waterways and the ocean, get into food chains and eventually end up on our plates. Get one of these and use it every time you wash anything made of synthetic fabrics, which is basically all workout gear.
This Works Black Cedar and Spice Candle
Okay, you don't strictly need this, but it will definitely make your yoga sessions better. Turning off bright lights and switching to a candle helps change the mood of whatever small, enclosed space you happen to be in. I do yoga right next to my work desk, and changing the mood and scent of the room helps break up the day and turn my mind from work mode to relaxation mode. I'm on my third jar of this candle and I still never tire of it — it's warm, not too sweet, and a little woody, like you're in a log cabin in the middle of a forest, safe from any infectious diseases.
The Strategist UK is designed to surface the most useful, expert recommendations for things to buy across the vast e-commerce landscape. Read about who we are and what we do here. Our editors update links when possible, but note that deals can expire and all prices are subject to change.