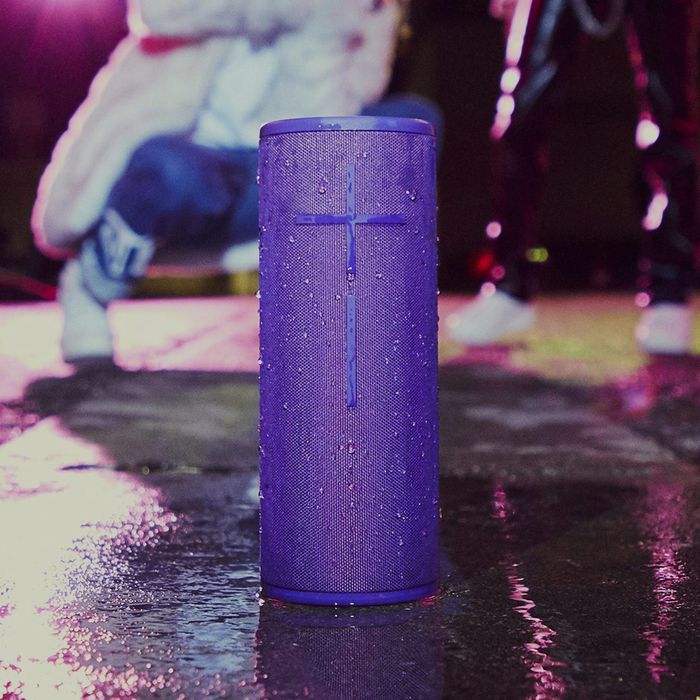 Here at the Strategist UK, we like to think of ourselves as crazy (in the good way) about the stuff we buy, but as much as we'd like to, we can't try everything. Which is why we have People's Choice, in which we find the best-reviewed products and single out the most convincing ones. (You can learn more about our rating system and how we pick each item here.)
And while we've covered all sorts of technology before — including the best earphones, the best smart TVs, and the best home projectors — here, we've rounded up the best home speakers, as praised by the most enthusiastic reviewers on Amazon.
Best-rated home speakers
The Boom 3 Bluetooth speaker is very popular among Amazon reviewers, with 82 percent of its reviews being five stars — and when we spoke to audio experts, they also recommended the Ultimate Ears brand. Additionally, 132 customers spoke highly of the sound quality, with one reviewer stating that they found this was the best sound quality available in a portable speaker, and just as loud as a mini-rig. Another reviewer commented that everyone was impressed by both the quality and the loudness when they took their Boom 3 on holiday; and they didn't have to worry if the speaker fell into the pool. In fact, 76 reviewers were pleased with the waterproof functionality of the speaker, with one writing that if you're looking for a strong, waterproof, robust speaker with excellent sound quality, this is the one to go for. Though many used their speaker at home, battery life was also integral to many purchases, and the Boom 3 claims to hold its charge for up to 15 hours. This seems to check out — one reviewer said that theirs lasted a good six or seven hours when starting on 50 percent charge, and another stated that they listen for hours each day and the battery still lasts days. Lastly, this model boasts a "magic button," which allows you to link to all of your compatible devices, alongside syncing with your playlists on Apple Music and Deezer; one reviewer exclaimed that this feature works "flawlessly."
Best-rated (less expensive) home speakers
At £40, 200 reviewers were positive about the price point, with one writing that as far as value for money goes, this is as good as it gets. Some 106 reviews were enthusiastic about the build quality — which is how a speaker is put together — with 1 noting that the four rubber bobbles on each corner omit any surface vibration, and another claiming that the build quality is that of a far more expensive product. It's worth pointing out that while you can definitely pair this speaker to your computer, TV, or any other compatible device, the Anker SoundCore is on the smaller side compared to some of the others we've featured. But one customer wrote that after purchasing two of the speakers, they now pair them together via Bluetooth and connect both to their TV, creating a surround sound quality that is much more powerful than their TV speakers.
Best home speakers for TV
For home speakers that connect to your television and allow for a more enveloping sound, a soundbar seems to be a popular option. The Megacra wireless soundbar is available in 28, 32, and 40 inches, and is able to be mounted on the wall. Reviewers are quick to praise the quality, with one customer claiming that the speaker was perfect for achieving high-quality sound at a reasonable volume (without having to "blast" the volume on the TV). Another reviewer loved the rich, deep bass of the soundbar, while yet another exclaimed that they wish they could give this product six stars. The majority of buyers used the Bluetooth function to connect to their TV, computer, or other device for streaming and watching content, but it could just as easily be connected to a phone or laptop to play music. One hundred and two customers wrote about the ease with which they installed and used the soundbar, with one happy reviewer buying the speaker for their elderly parents who needed the extra volume for their TV.
Best home speakers that are also portable
The Enacfire SoundBar is definitely a crowd favourite, with a whopping 96 percent of its reviewers giving it five stars. According to 747 reviewers, the battery life on this speaker was great, allowing for long usage without charge while out and about — one customer said that they managed to get 25 hours of use out of the battery and called it ideal for travelling. The range of the Bluetooth connection is also around 30 metres, meaning that you don't have to keep your phone right next to it at all times to prevent glitchiness. Another reviewer was happy to report that out of all the Bluetooth speakers they've had in the past, this one far outweighs them all. While the battery life is clearly an important factor for those searching for a durable speaker they can carry around with them, the sound quality for the Enacfire SoundBar is equally as impressive. Forty-three percent of reviewers complimented the sound quality, with one describing that due to the triangular design, the speaker is able to deliver 360-degree sound from all directions. Another added that they are blown away by the sound quality from such a small item. The build quality also gets lots of great reviews, with 108 buyers mentioning this.
Best home speakers with Alexa