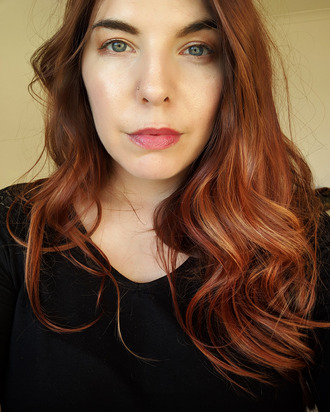 Nicole Kidman–level red hair was always my goal.
Photo: Courtesy the author
Ever since I first saw Nicole Kidman in Practical Magic, I've wanted red hair. My natural hair colour is dark brown, and although I dyed it 'red' at home as a teenager, it's impossible to get coppery, ginger hair from a box. Thanks to my genius colourist Chloe Backler at Hob Salons, my hair has been red since 2011, and since then, I've been regularly asked about my colour — and, specifically, how I keep it from fading.
The truth is, coloured hair fades, and you will always need to get it retouched — most people get their roots and colour touched up every four to six weeks. However, I actually only get my colour done every 12 to 14 weeks, and I've learned how to keep it looking as fresh and healthy as possible. After a few years of panicking about my colour's vibrancy and using expensive 'for red hair!' conditioners, my approach for saving my colour is pretty simple (and affordable): (1) I only wash my hair once a week, and (2) I no longer buy specific "colour save" products — if it's of good quality and is gentle on your hair and scalp, it will (probably) also be gentle on your colour. My hair is pretty long, nearly halfway down my back, and while my scalp tends to get oily, the length of my hair can get quite dry if I don't condition and treat it properly. My hair and colour also benefits from — out of pure laziness — not regularly using hair straighteners or heat-based styling products. A couple times a month, I might be bothered to use my Revlon blow-drying brush, but that's it.
As a consumer, I've very brand loyal, and so I'll try many different products from one place, like Lush, for example. I also tend to only take hair advice from people I know and trust in real life (who have amazing hair), so the below products have either been recommended to me by a friend or are made by a brand I really trust.
The best, gentle shampoo


Much like the skin on my face, my scalp can get quite oily, but if I strip all the moisture out of it, it gets even worse. This micellar shampoo (as recommended by Sali Hughes) says it's formulated to protect colour and is gentle enough to use everyday, but I still only use it once a week. It leaves my scalp feeling clean and my hair light, and I never feel like my colour has changed after I use it. Plus, it's pretty damn cheap! Because I have long hair, I use the equivalent of two 50p coins each time — it lathers nicely, and rinses without the awful, dry squeaky feeling.
The best "natural" shampoo to use


I usually switch to using Lush's shampoo bars — specifically the Soak 'n Float — in the winter months as my scalp tends to get a bit dandruffy. These shampoo bars are gentle on your hair (if you're worried about sulfates, read this), and when I started using these instead of salon-grade shampoos, my hair stylist was like, 'What are you using?! Your hair feels so much healthier!' And I felt smug AF because it was just a shampoo bar from Lush. You can buy a little tin dish to store it in, but I find this doesn't allow the shampoo bar to dry properly, and it can get gooey and then get stuck inside the tin. I recommend storing it on a soap dish that will let it air out properly.
The best, cheapest conditioner
Brands will use ridiculous-sounding technology and pop stars to try to convince you that their condition is the best way to protect your colour — and this is bollocks. The best, affordable conditioner I've ever used is this one from Palmer's. It smells nice and leaves my hair feeling soft and my colour intact. A hair stylist once told me that if your hair is full of water, it can't absorb any of the conditioner, so I always squeeze out or towel dry the length of my hair a bit before I add conditioner — and 15 years on, it does seem to help. Ideally, you should leave this in for around five minutes, but I can't be bothered and want to save water in the shower, so it only stays on my hair for about one to two minutes at the very most.
The best hair mask


I've purchased and used many hair masks that have been sold to me at salons, but this is by far the best (and cheapest). Recommended to me by a former colleague after I commented on how swishy and shiny her hair was, I use this about every other week, sometimes even just as a conditioner if I'm in a rush. If I'm using it properly as a mask, I'll try to leave it in while I watch an hourlong show on Netflix. I honestly don't believe all the hype around expensive, exotic-sounding oils and ingredients, and even though coconut oil is still having a moment, at £2 this leaves my hair feel nourished and easy to brush through.
The best dry shampoo spray


Dry shampoo is key to not washing your hair as often in order to preserve your colour. And although there are some amazing dry-shampoo sprays out there, Batiste can do the same thing as the fancy stuff for less money. I've tried the ones with colour as a touch up for roots (they did make a red one back in like 2013 but discontinued it), but I find them a bit weird and wouldn't recommend, as it's hard to match your hair colour and, if not used properly, it leaves your scalp looking stained. To prevent having giant, ghosty white marks on your head, make sure to shake the bottle properly and hold it 30cm away from your head. The cherry scent is my favourite.
The best solid, dry shampoo


I got a sample of this when I subscribed to BirchBox, and I was really impressed with it. I like texture in my hair as well as a bit of volume, and this does exactly that. It takes some playing around with to figure out how much is the right amount for your hair (too much and it looks greasy), but once you do, it's fantastic. At the end of the week, when my hair is looking a bit flat and dull, I'll combine this with Batiste for some serious zhuzh. I add like half a pea-sized amount to my fingers and work it through particularly dull or greasy parts of my hair, near the roots, and I don't brush it through like I would Batiste. I used a tiny bit once or twice a week, and a tiny sample sized pot lasted me over six months!
The Strategist UK is designed to surface the most useful, expert recommendations for things to buy across the vast e-commerce landscape. Read about who we are and what we do here. Our editors update links when possible, but note that deals can expire and all prices are subject to change.