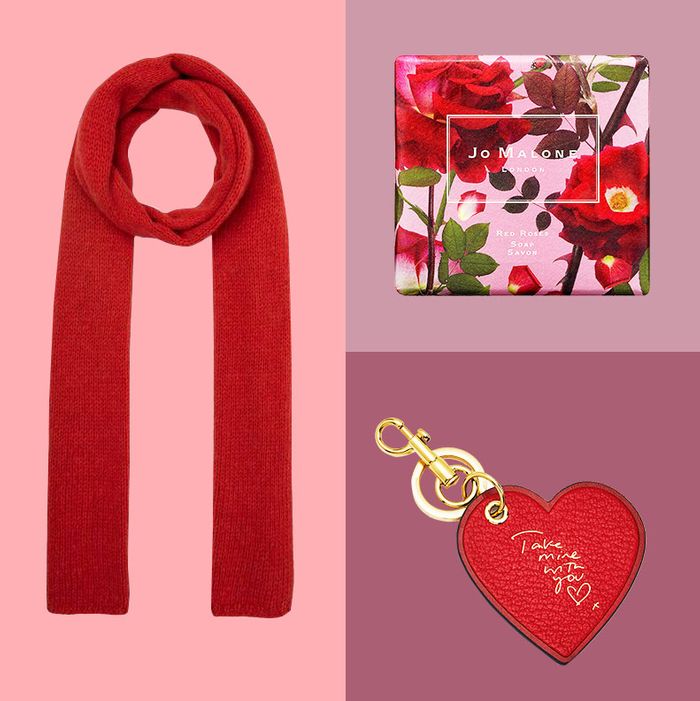 Photo: Courtesy of the retailer.
Whether it's the early stages of a casual thing or you're seriously settled down, you're sure to love a bargain, so for Valentine's Day we've rounded up some of the cheapest, nicest things from the fanciest brands — including an entry-level Aesop lip cream, a charming Coach purse, and a status-y hand cream — all inexpensive enough to make great gifts.
Wear your heart on your sleeve (by wearing it on your chest).
A discreet rollerball for a very un-Gucci price tag.
Because even goths like Valentine's Day.
Cashmere socks are an effortlessly luxurious gift, and these ones are under £30 at the moment.
Made from seven kinds of roses, plus lemon and honeycomb, this soap is a great alternative to actual flowers.
A leather charm you can get personalised with your own handwritten message.
Because you probably can't gift a wax jacket for Valentine's Day, why not opt for a grain-leather cardholder instead?
An affordable accessory in a dramatic hot-pink hue.
We like the Art Deco detailing on the lipstick case.
These decadent pink truffles would make a suitably maximalist token this Valentine's Day.
Proof that romantic gifts don't have to be heart-shaped.
With notes of cardamom and leather, this is a decidedly grown-up deodorant.