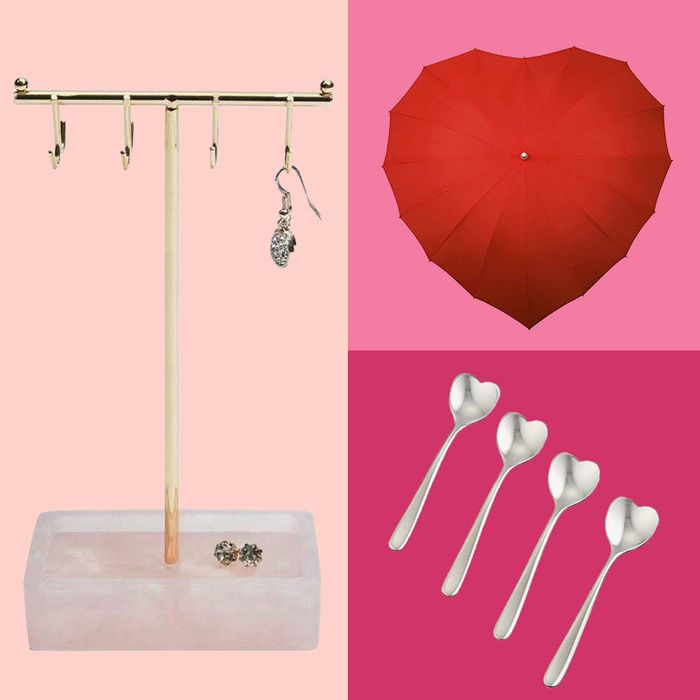 Photo: Courtesy of the retailer.
Valentine's Day is just around the corner, and though we've already searched out the least cheesy cards, and some low-key fancy gifts you can buy, we also know that sometimes it's difficult to plan in advance. Especially if a relationship has gone from casual texting to "will I get you a present?" over the course of the past few weeks. To which we say: Behold these thoughtful gifts, all under £20, which you can buy on Amazon. They should all arrive well in time for Valentine's Day, too.
For the valentine who always takes a bite of your dessert
These sweet heart-shaped spoons are the right size for a nibble of someone else's tiramisu.
For the valentine who is a li'l mushy
Cancel out the mush of the heart shape with the practicality of a brolly.
For the valentine who loves eating brunch, but hates getting up before eleven
Give the gift of waffles in your pj's.
For the valentine who still writes love notes
You could write a little love note on the first one, if you'd like.
For the valentine who's a light sleeper
For the valentine who stays up late reading
A daring and moving novel for that book light.
For the valentine who thinks Pret coffee tastes like soil
This pour-over dripper easily makes enough coffee for two.
(Plus, a nice mug to go with that coffee dripper.)
For the valentine who keeps losing their phone
A practical gift that will pay for itself.
For the valentine who's a little frazzled
This sleep balm is a solid, so it can travel wherever they go.
For the valentine who's newly official
A design-y bamboo toothbrush for when they stay over.
Bundle it with this status toothpaste.
For the valentine who's a cautious gardener
This plant is practically unkillable.
A plant pot for that plant (available in a range of colours).
For the valentine who's a confident gardener