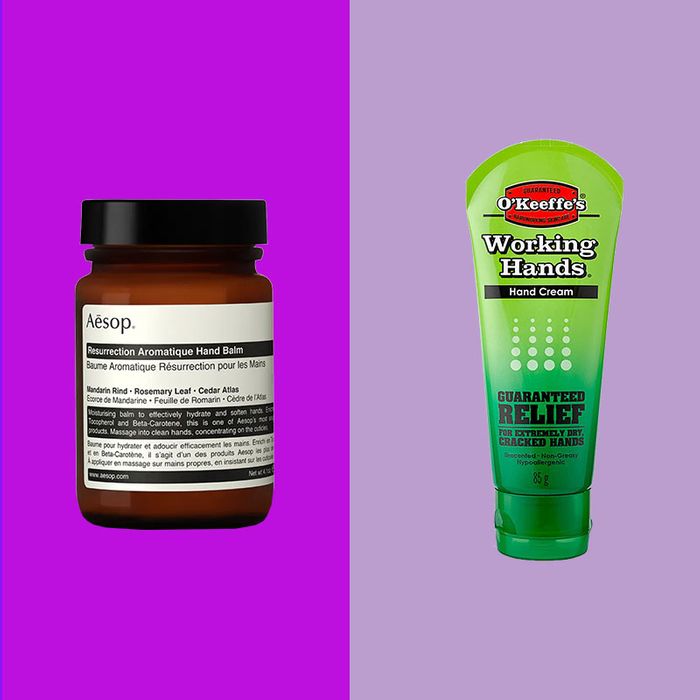 Photo-Illustration: Photo: Sony Pictures Television
It's easy to neglect our hands, even though they come into contact with literally everything. But just like the skin on your face and body, hands will invariably become dry and irritated, especially after the last two years of frequent hand-washing and constant sanitising.
We spoke to 11 experts, including skin-care specialists, beauty editors, and doctors, and asked for their hand-cream recommendations. We also went through the Strategist archives, took polls among the staff, and even looked in readers' shopping carts to determine the best hand creams out there.
Best overall | Best splurge-worthy | Best oil-free | Best for extremely dry hands | Best cruelty-free | Best with SPF | Best for nails and cuticles | Best overnight hand cream
Hydration: While body lotions have a high water content, making them easier to apply to your arms, legs, or stomach, hand creams are typically thicker and oilier. Most hand creams contain some kind of natural oil, such as almond oil, avocado oil, or even shea and coconut butter. We're also looking for intensely hydrating ingredients, known as humectants — these include glycerin, ceramides (which help reduce moisture loss, increase hydration, and protect the skin barrier), and hyaluronic acid (which attracts and retains moisture in the skin).
Fast-absorbing: We're looking for a cream that gets to work fast — something you can keep by your desk and apply in the middle of the day without waiting for it to set in. Generally, we're favouring a cream that won't smear all over your keyboard or phone after applying.
Scented vs. unscented: The scent of a hand cream will depend on personal preference, so we've largely focused on unscented options. That said, ingredients like cocoa butter, coconut oil, or even honey will naturally have a subtle scent to them, so we'll highlight these where appropriate.
Best overall hand cream
Fast-absorbing | Lightly scented | Contains glycerin
Our best-rated overall hand cream was first put on our radar by author Sarah Breen, who told us it had been a life-saver during the early months of the pandemic. When her enthusiastic hand-washing, coupled with her baby's nappy changes and food preparation for her family, left her hands feeling dry and cracked, this cream became indispensable. Breen notes that it absorbs easily, smells good, and provides instant relief — it was so effective, Breen says, that she ditched her other go-to hand creams by L'Occitane and Clarins. "No exaggeration," she writes, the cream "did more for my chapped mitts in one application than any other product."
The hand cream is popular on Amazon, where it has 10,007 reviews, 78 percent of which are five stars. In fact, I found reviews by many front-line workers (including ten nurses, a handful of carers, and a doctor) who said it was just the thing when frequently sanitising hands and replacing disposable gloves. Even more impressive is the price — it's never gone above £4 and regularly costs around half that. One note on the scent — several reviewers say it's unscented, though others note a very light, almost sweet smell, which likely comes from the addition of maple sap extract, which is used to treat irritation and inflammation.
Best splurge-worthy hand cream
Long-lasting | Citrus scent 
Aesop's statusy balm has quite the reputation already — but it also comes recommended by three Strategist staffers and two hand models and has an impressive number of reviews online (in fact, it's the best-rated hand cream on Space NK, with 463 reviews).
Strategist UK editor Ailbhe Malone specifically recommends the balm in jar form, which makes it easy to "scoop out every last bit." It's also a far better value for the money — a 75ml tube costs £23, while a 120ml tub costs £27. Audience development manager Rosie Percy and I are also fans of Aesop's balm; Percy called the smell "other-worldly" and says, "I've yet to apply this in public and not have someone comment on how gorgeous the scent is. The blend of rosemary and mandarin is fresh, herby, and delicious. The cream itself is much lighter than other creams I use, so it's for day-to-day rather than a treatment, but it's like a spa treatment in a tube."
Hand models Christina Ambers and Likai Lai both recommended Aesop too. Ambers says that whenever she is on a particularly stressful shoot, she can take a quick break, breathe it in, and it feels almost like aromatherapy. In addition to featuring glycerin, the balm's moisturising qualities come from the blend of essential oils, including rosemary, mandarin peel, almond, and cedar bark.
Best oil-free hand cream
Beauty journalist Laura Capon told us that she despises the feeling of hand creams on her skin. "They can feel really heavy, so I really needed one that was lighter and less claggy." She swears by Malin + Goetz's vitamin-B5 cream, an oil-free product that is made with shea butter and honey to help soothe irritated or red skin. "It leaves zero residue behind. It's honestly one of the few I can tolerate," Capon says. This cream contains two humectants: glycerin and sodium PCA, an amino acid that increases the water content in the top layers of the skin.
Best hand cream for extremely dry hands
Fast-absorbing | Non-greasy
It was a close call between two products in this category. As a balcony gardener, I often get scratches, nicks, and grazes while trimming, pruning, and tidying my plants, so for the last month, I have been using the reparative hand cream by CeraVe, which I found in my local Sainsbury's. For a thick cream (it contains ceramides and hyaluronic acid), it went on easily and was absorbed in no time — just like CeraVe's other moisturisers. I really liked it. But when both Percy and Malone told me about O'Keefe's Working Hands — designed for people whose hands regularly get dry and cracked — I decided to compare the two.
O'Keefe's won out in the end for several reasons. I read reviews from all kinds of people who said it soothed and healed hands immediately. A barista said their hands would regularly get scalded and sprayed by hot water during the course of a typical workday. Even washing hands repeatedly caused irritation. But this product made cuts and red marks disappear overnight. Other professionals swear by it too — including welders, clay potters, and gardeners. Immediately, I noticed its thicker, almost wax-like consistency, which requires a little working into the surface of your hands to soften it. I didn't love that as much, but, as Percy notes, "It's definitely more for function than a pamper. I only have to apply it once or twice a day when my hands are at their worst, and a tube lasts me a year plus."
One other deciding factor for me was the range of sizes and the value for the money. While I really like CeraVe's cream, one thing working against it is that it's only available in one size — a puny 50ml tube, which retails for about £4–£6. Comparatively, O'Keefe's 85g tube is a mere £3.60, while the company offers a 193g value-size tub for just £10. Percy says she prefers the tube: "I can pinpoint application between my knuckles, where the skin gets driest."
Best cruelty-free hand cream
Coconut-scented | Contains lanolin 
Strategist contributor and beauty writer Daniela Morosini told me she is "obsessed" with the tropical, coconuty scent of this hand cream. Lanolips is cruelty free too — the company doesn't test finished products on animals at any point during production, nor does it allow third-party tests on its behalf. The active ingredient is lanolin, which is derived from sheep's wool. "It helps waterproof the sheep. It has been used in beauty for centuries to hydrate and also acts as a bit of a barrier," Morosini explains. "Some people claim that lanolin mimics the skin's own oils. I think it smells amazing, and it really soothes my cuticles and nail beds. This is the one I use if I need deep conditioning on my hands in cold weather — or after lots and lots of washing."
Best hand cream with SPF
Non-greasy | Contains argan oil | Fast-absorbing
The Strategist's Chloe Anello is a self-professed compulsive shopper when it comes to hand creams with SPF. She says that while working from home during the pandemic, her thorough SPF routine was disrupted. "Because of how much I was washing my hands and slathering them in sanitiser, applying one coat of sunscreen to them in the morning was no longer enough."
She started investigating hand creams that are made with SPF, and this Supergoop option was one of her favourites. "Because of how lightweight the formula is, it blends in the fastest of all the ones I own," she notes. It's similar in composition to Supergoop's facial sunscreen, which we've written about before — aesthetic doctor Ewoma Ukeleghe says it "spreads like butter" and is suitable for a range of skin types.
Best hand, nail, and cuticle cream
Contains shea butter | Heavy scent 
Experts and Strategist staff alike agreed that this Clarins cream was best for hands, nails, and cuticles. It contains shea butter, which medical aesthetician and skin specialist Bianca Estelle recommends, saying her hands "stay hydrated for hours" after using it. Beauty blogger, consultant, and writer Emma Hoareau said she noticed this multitasking product had really strengthened her nails. "When you apply it, it feels like you've put on an invisible, silky soft glove. It uses sesame oil to hydrate your skin, so it doesn't feel heavy at all," she says. Malone agrees, noting that "despite its pungent scent, this never irritates my hands." She adds that although it contains dimethicone, a silicone, "it doesn't leave my hands feeling sheeny."
This product is also the most highly rated hand cream on John Lewis by a country mile, with 340 reviews and an average rating of 4.9 out of 5 (the second-most popular hand cream, by Molton Brown, has a mere 29 reviews). One 72-year-old customer says she has been buying this cream for seven years and regularly asks family members to gift her a tube at Christmas and on her birthday. We also saw it highly recommended at House of Fraser, Superdrug, and Fenwick.
Best overnight hand cream
Contains shea butter and hyaluronic acid | Exfoliating
Alexander Johnson is the general manager and head of PR at John Bell & Croyden, the luxury pharmacist with a royal warrant (meaning they supply goods to the royal family). He recommends this cream from Zelens, which he says saved his blistered hands after a bike ride from London to Paris a few years ago. "They were completely healed overnight," he says. "It absorbs into the skin very quickly. It also keeps your cuticles soft and your hands soothed, so I make sure to take it with me everywhere," he explains. "It's great for chapped or dry hands, whether that's from exercise or just simply excess hand-washing." The cream contains AHA and hyaluronic acids, too, meaning it will exfoliate and soften your hands and help tackle any dead skin.
Some other hand creams we've written about:
Chloe Anello, former Strategist writer
Christina Ambers, hand model
Sarah Breen, author
Laura Capon, beauty writer
Bianca Estelle, medical aesthetician and skin specialist
Emma Hoareau, beauty writer
Alexander Johnson, general manager and head of PR, John Bell & Croyden
Likai Lai, hand model
Ailbhe Malone, editor, Strategist UK
Daniela Morosini, Strategist contributor
Rosie Percy, senior audience development manager, Strategist UK
The Strategist UK is designed to surface the most useful, expert recommendations for things to buy across the vast e-commerce landscape. Read about who we are and what we do here. Our editors update links when possible, but note that deals can expire and all prices are subject to change.