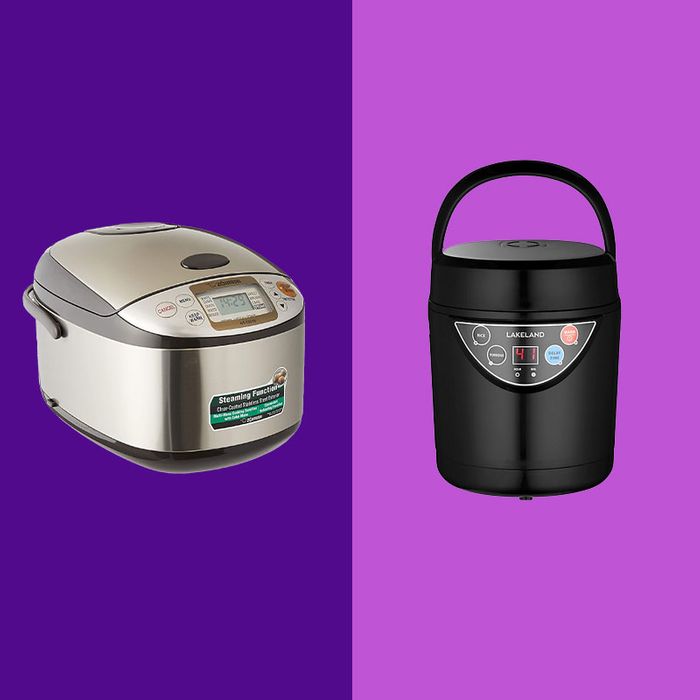 Photo-Illustration: retailer
Rice is one of the most versatile things you can cook at home, and though you could just order it from takeaways, a rice cooker can ensure top-quality rice even faster than delivery.
We spoke to six experts — including one half of a cookbook-writing duo, a recipe developer, and a number of chefs at some of London's most acclaimed restaurants — to find out their recommendations. We also dove deep on subreddits dedicated to rice cookers to compare and contrast different models and consulted reviews on Amazon, John Lewis, and Currys to weigh up the pros and cons of brands like Zojirushi, Lakeland, and Reishunger. We compared notes with our colleagues at the U.S. Strategist, too.
Best overall | Best (less expensive) | Best simple | Best small | Best large | Best for Persian rice
Capacity: Rice cookers come in every size imaginable, from tiny portable options making a single cup of rice to industrial-size cookers that could feed a small army. Generally speaking, a three-cup rice cooker is good for one or two people, a five- or six-cup rice cooker is good for about four people, and anything bigger is best if you eat a lot of rice or host people frequently for dinner. Also important to remember: The bigger its capacity, the more space the cooker will take up.
Settings: Some rice cookers come with just a couple of settings, and others are able to cook multiple kinds of rice, including brown rice, sushi rice, or porridge. We'll be listing all the functions for each cooker. Digital rice cookers will offer more sophisticated cooking methods, while more basic models simply have "cook" and "keep warm" functions.
Best overall rice cooker
Up to 10 cups | White/sushi, mixed, porridge, sweet, brown, cake, steam, and quick cooking
This Zojirushi is "the Lamborghini of rice cookers," according to writer and recipe developer Kiera Wright-Ruiz. It also comes recommended by Chris Riley, founder of the Daring Kitchen, who says Zojirushi cookers are "well-built and will last you a long time." Riley recommended the NHS-06 three-cup cooker, calling it perfect for most people. "It holds up to three cups of uncooked and six cups of cooked rice, but there are larger options, too," he says. The cooker has single-switch controls and features a nonstick inner cooking pot. "It's extremely easy to use, and you don't need to stand by the stove to make perfect, fluffy rice. Just turn it on and use the time for something else."
Padam Raj Rai, executive chef at Hot Stone, Islington, also likes the Zojirushi. "At Hot Stone, we cook large amounts of rice each day for our fresh sushi dishes, so having the best rice cooker available is very important." This is also the preferred cooker of the many home cooks on the r/RiceCookerRecipes subreddit. The community has more than 42,000 members, with one claiming their Zojirushi has lasted for more than ten years without getting so much as a scratch on it. Another said this model was particularly good at avoiding "crusting" — when the rice cooks into a thin layer on the bottom of the cooker — which is common on cheaper models. Charmingly, it also plays a tune when the rice is cooked.
The Zojirushi uses what's known as "fuzzy technology" to determine the cooking time and temperature. This means that even if you add too much water, for example, the cooker will readjust the cook time to accommodate it. "You get a consistent texture with a margin of error," notes Wright-Ruiz. Another particularly appealing feature lets you preset when you want your rice to cook: For example, if you're braising something that takes three hours, you can time it so that the rice is done simultaneously.
Best (less expensive) rice cooker
Up to 8 cups | White and whole grain
Compared to the Zojirushi, this Russell Hobbs rice cooker has fewer bells and whistles, but it's a simple option that came recommended by three experts. "It makes small portions of perfectly fluffy rice every time — and it's very reasonably priced," says Vivek Singh, executive chef and CEO of the Cinnamon Collection restaurant group.
Emily Chung, who with her sister Amy wrote The Rangoon Sisters: Recipes From Our Burmese Family Kitchen, grew up with a "single switch" model like this and says they're all she needs. "To this day, I've yet to be convinced of the benefits of a new-fangled device with digital display and multiple options," she says. "I've used this inexpensive Russell Hobbs cooker at various friends' houses, and it works a dream. Once I'm in the front door, it takes only 20 minutes to cook perfect rice."
Best simple rice cooker


Up to 6 cups | White and whole grain
I've owned this rice cooker for two years. I bought it after reading thousands of positive reviews on Amazon. Compared to the other models featured here, the Reishunger is minimalist — one button toggles between the "cooking" and "warm" settings (the only way to turn it off completely is to flick your wall-socket switch). I bought it as something of an experiment before considering a more high-tech version, but it has since become an essential in my kitchen — I use it at least three times a week.
It can hold rice for up to six people, though I typically cook two to four portions of white rice myself, which takes about 15 minutes. As recently as last week, I experimented with brown rice, and it cooked beautifully (with a far better texture than if I had done it in a pan), though it still took almost twice as long to cook, as brown rice typically does. The Reishunger includes a steamer insert, which is really handy for cooking vegetables, and the bowl the rice cooks in is easy to clean. It's also regularly on sale — I bought mine on a Black Friday offer for around £25.
On Amazon, more than 125 reviewers say it cooked perfectly fluffy rice every time, while 179 say it was easy to use, too. The bowl is treated with a nonstick coating, so it's advised not to put it in the dishwasher. I'll admit that I've done this myself a few times, but even so, the rice still comes out fluffy and delicious after the fact. And any rice that has stuck to the bottom is incredibly easy to shift after a soak in hot soapy water.
Best small rice cooker
Up to 2 cups | White and porridge
If you are tight on space, this rice cooker by Lakeland has roughly the same footprint as a blender and cooks two cups of rice at a time. It features a "keep warm" setting that runs for up to 12 hours, and the power cable can be detached from the cooker so that it can be easily transported to the table. Many five-star reviews came from students, who say it is easy to take to their room after using it in a shared kitchen. It also has a specific porridge setting, which it cooks over a 60-minute period and will automatically switch to "keeping warm" once finished.
Best large rice cooker
Up to 32 cups | White
"If you cook in bulk, or need to cook large quantities of rice like we do at all restaurants across the Cinnamon Collection, Buffalo machines are efficient and consistently produce lovely, steamed rice," says Singh. This is a six-litre model, which works out to about 32 portions of rice, and the cooker features a silicone mat inserted into the inside to prevent sticking. It also features an auto-warm function, which lowers the temperature once the rice has cooked, and has a small well to collect water from condensation. In terms of functions, this lacks the specific settings that models such as the Zojirushi offer, but it comes highly recommended by several Amazon customers who run takeaways and restaurants.
Best Persian rice cooker
7 cups | Customisable timer and keep warm
The Pars Persian rice cooker is built to make something different from all the others on this list: tahdig, the ubiquitous, crispy layer of rice at the bottom (and top, when you turn it over) of many preparations of Persian rice dishes. "I'm an avid home cook, but rice was always tough for me, and that's part of why for a while I avoided cooking a lot of Persian food," says writer Arya Roshanian, who chronicled his foray into using the Pars for Vox last year. His mum and grandmother both used one, and during the pandemic he finally decided to get one himself. In fact, he now has two — the smaller four-cup he started out with and a larger seven-cup he uses to make tahdig for a crowd.
"It's user-friendly," he says, "something that my 85-year-old grandma who only speaks Farsi and isn't that good at technology can figure out. The first time I used it, I was thinking I would need to try a few times in order to get it right, but it came out pretty perfectly — and then each subsequent time too." Roshanian also likes that the insert is lightweight and "nonstick so it's super-easy to flip out and clean." This specific model holds seven cups of rice, but Pars also sells three-cup, four-cup, and 15-cup versions if you're looking for a different size.
The Strategist UK is designed to surface the most useful, expert recommendations for things to buy across the vast e-commerce landscape. Read about who we are and what we do here. Our editors update links when possible, but note that deals can expire and all prices are subject to change.