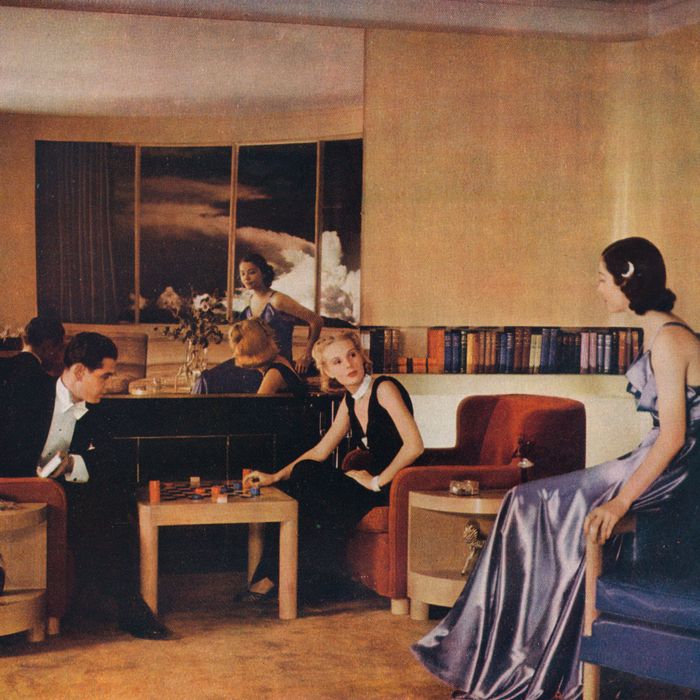 Photo: Print Collector/Getty Images
It's been two weeks since the government advised that people stay home. And people are looking for ways to relax, de-stress, or kill time while our social lives are on hiatus. So, you might be in the market for some new pastimes. Thoughtfully, we've rounded up the new (and not so new) hobbies that Strategist UK staff are deploying to stay calm and not get overwhelmed, while we keep a low profile for the foreseeable future.
Ailbhe Malone, Strategist UK editor
About four years ago, I was gripped by a jigsaw-puzzle mania: I wanted a screen-free hobby, but didn't care to take up crafting. So I stopped into Hamley's after work one day and rummaged around their puzzle department, settling on a 500-piece print of Trafalgar Square. Since then, I've refined my tastes: I dislike art print puzzles, but love fantasy ones by German puzzle brand Ravensburger. One thousand pieces are my preferred size, and the more structured the scene the better (one of my favourites is of an 'enchanted library'). I've dabbled in Escape Room Puzzles, but find the mystery takes away from the fun of completing the puzzle. Now that I'm at home a lot more, I've been going through my stash, redoing my favourites, and starting a couple of new ones I got for Christmas.
If you're keen to take up puzzles, I highly recommend a puzzle mat: You puzzle directly onto a large piece of felt, which rolls up and around a cardboard tube when you're done.
An Instagram friend of mine (@LauradeBarra) is an illustrator, and has been hosting Instagram Live life-drawing classes every Sunday. I'm no artist, but I've really been enjoying playing around with paint, pencils, and charcoal while drawing different arrangements. My husband's a graphic designer, so I use his stash of art supplies, but Laura encourages viewers to join in with even a Sharpie or a Biro.
Rosie Percy, Senior Manager, Audience Development
To stop myself simply scrolling on Instagram and rewatching Mad Men, I'm learning how to knit during the lockdown. The plethora of YouTube tutorials — I liked this one — means it's pretty easy to teach yourself, but I'm practising with cheaper, chunky yarn until I'm confident enough to order a kit from Wool & the Gang (my colleague Mia swears by them to make her own sweaters).
Exercise classes are the only way I'll reliably work out: Go it alone and I get distracted and struggle to focus. Without my regular four classes a week — and limited to what I could do outside — I found a great at-home alternative in Peloton's digital classes. Their combination of strength, yoga, boot camp, and stretch classes offer the same variation I'd get at the gym, and the peppy instructors really do connect with you, even at home. I ordered a yoga mat and some dumbbells, but plenty of the classes can be done with just your body weight.
Chris Mandle, Writer
With trips to the supermarket being limited, I'm trying to use what I have in my fridge, freezer, and cupboards as resourcefully as possible. Last time I went to the supermarket, I couldn't get any dried pasta, so it's lucky I like making my own (honestly, it's very easy). My cheap-and-cheerful pasta-maker is definitely on its last legs though, and I'm eyeing a slightly more sophisticated model, since it looks like we might be in this for the long haul.
My Nintendo Switch came into its own during March — not only because the government lockdown stopped me from hanging out with my boyfriend (and, well, everyone) but it gave me an excuse to buy Animal Crossing: New Horizons, a.k.a. the perfect game for playing when locked in your flat. The graphics are gorgeous — I especially like logging on in the evening to watch the blood-orange sunset — and the music is soothing and ambient. I dress my character in surprisingly tasteful clothing, while real-me lounges in sweatpants. [Editor's note: The original Switch is sold out in most places, but a Switch Lite (a handheld-only version of the console) is available to preorder or buy now from limited retailers].
At 6 p.m., (after I go for a stroll), I run a deep, boil-a-lobster-hot bath, and fix a drink. I usually avoid music because I listen to it all day at work, and I skip podcasts because they feel too cerebral for a soak. But I always have a good scoop of bath salts to help me loosen up a bit (I have taken to working from my sofa, which any idiot will tell you is not good, long term). Mel C used these bath salts during her punishing training regime for the Spice Girls world tour last year – so I ordered a bag, too. (She likes the 'Reviving' blend, which is currently out of stock.)
Hannah Holway, Editorial Intern
Reading has always been my way of switching off, and though I normally love nonfiction, I'm steering away from anything too heavy right now. Cheryl Strayed's memoir Wild, documenting her life-changing journey across the Pacific Crest Trail in California, is providing ample escapism for me. I also just read Sally Rooney's Conversations With Friends, which is a perfect easy read for when your brain is feeling tired.
I've always been a savoury person, but if now isn't the time to indulge in carrot cakes and flapjacks to distract you from the current climate, then when is? This cake tester has become an essential part of my routine, and I'm particularly taken by this silicone Bundt-esque cake mould.
In normal circumstances, I'd be going to an in-person yoga or Pilates class, but due to the lockdown, lots of instructors on Instagram and YouTube have been offering live classes and workouts. I really like Lottie Murphy and Cat Meffan's videos, and Annie Clarke does good live classes on Instagram. I've found that even 15 minutes of movement in the morning really clears my mind and sets me up for a productive day. And when we are back to non-virtual classes, this 12mm mat with a strap is perfect for carrying it to and from.
The Strategist UK is designed to surface the most useful, expert recommendations for things to buy across the vast e-commerce landscape. Read about who we are and what we do here. Our editors update links when possible, but note that deals can expire and all prices are subject to change.