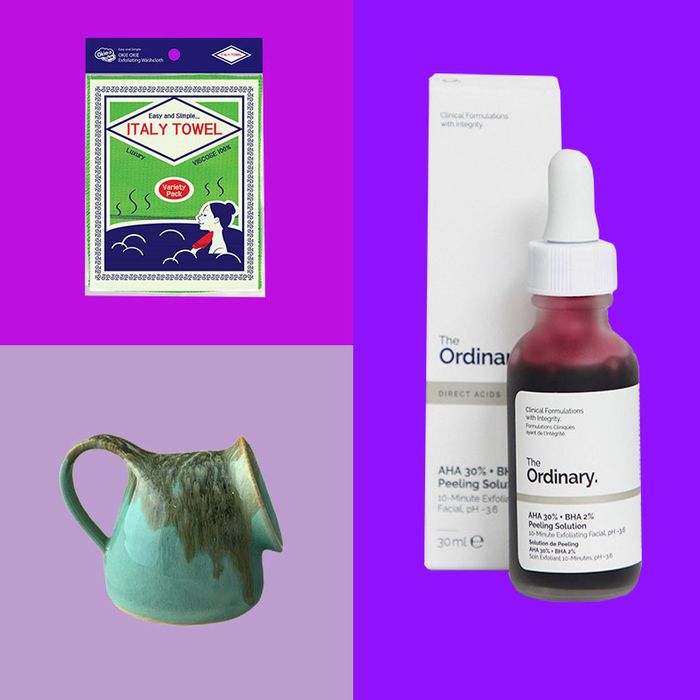 Photo-Illustration: The Strategist; Photos: Retailers
If you follow our monthly feature "Your Shopping Cart," you know we have some eerily good intel on what you all are buying. Which led us to think that, as Strategist editors, we could turn the tables and highlight all the things we've been buying for ourselves. As you'll notice, it's both a blessing and a curse to be a Strategist editor; we're picky, but sometimes we just have to get on with it. (It's online-shopping expertise meets IRL needs.) Below, what we all bought in June.
Rachel Mantock, writer
Photo: retailer
Waterproof and made from medical-grade silicone, this vibrator stood out to me as body safe first and foremost. (Only metal, glass, and silicone toys can be thoroughly sanitised.) Plus, I thought it was time to invest in a better quality vibrator wand, having gone through cheaper versions like Tic Tacs, the power levels dwindling after a few months and the battery charges no longer holding. Normally, I find all vibrator settings apart from the first three unnecessary, existing purely as novelty. But there were one or two other vibration patterns with the Ollie that I didn't immediately skip past. Most of the higher-intensity settings were softer than what I was used to, but still did the job enjoyably. (Maybe not all vibrators need to shake the whole house, though, this one isn't that quiet.) Simply put, it's a good all-rounder, not too intense, but not so gentle that I had to try. And there aren't tons of joins within the toy itself, leaving less nooks and crannies for bacteria to hide, making for easy cleaning.
This is a staple of mine to prevent thigh chafing during warmer months. My inner thighs have never failed to break out in sore red blotches any time I've skipped this powder. And when I don't skip it, they don't break out at all. It's made of cornstarch, cocoa butter, and vetiver oil, among other ingredients, and can be applied with a dusting brush or just your hands. Prolifically braless, I recently realised this works really well under breasts, too. It also works pretty well as deodorant, especially if you're sensitive to bicarbonate of soda, which is in all of Lush's other deodorant products.
I have a Pixel phone and have wanted Google's second take on wireless ear buds since they launched. The manufacturer claims they have ambient sound settings, which means they cleverly let in sounds from your surroundings while not compromising your listening experience, so you don't feel as isolated. With a budget version of these buds just launched, the Google Pixel Buds A-Series, that skip out on the wireless charging and some volume control features, I found the full-feature originals discounted in a number of places, with Argos coming in with the best deal at £109 (down from £179). The volume and quick controls have been flawless so far. Though they are the most comfortable ear buds I've ever used, they don't fit as snugly in my ears as I'd like, despite playing around with different ear bud sizes. The sound quality is pretty good, too. I am keen to find out how they hold up on a treadmill, but the gym still hasn't seen me this year.
Rachael Griffiths, editorial intern
Photo: retailer
I'd noticed these vests from Urban Outfitters all over my FYP for the last couple of months, each comment section abuzz with admiration for how flattering the top looked on chests both big and small. Encouraged by the rather reasonable price tag (below £20), I popped one in my bag. When it arrived, it was roughly half the width I was expecting, made of that Über-stretchy ribbed material that looks deceptively infant-size on the hanger. But once I pulled the top on, I was delighted to recognise that same flattering effect that had persuaded me to buy it in the first place. The top gives a nice level of cleavage, with — and this is the best bit — no need to wear a bra. I've actually ordered two more colours (blue and white).
Despite promising myself I was going to resist the siren call of Amazon Prime Day (after a splurge-and-a-half last year), I came across this adorable kids' T-shirt when compiling our kids and baby coverage. I love '00s baby tees, and I saw a thread on twitter about how when Megan Fox wears her son's T-shirts, it achieves that same Y2K cropped effect. As I yet have no children to rob from, I will just have to buy my own junior shirts — but for the less than £10 price point (even after Prime Day has ended), I'm not complaining.
Chris Mandle, writer
I'd seen spa-style exfoliating mitts on the Strategist before, but what sold me on these ones in particular was the slightly kitschy graphic; I saw the woman on the packaging, up to her neck in a steaming hot bath and thought "I want what she has". Before buying them, I quickly read some reviews, and after seeing one customer write that "the amount of dead skin these mitts removed was both gross and mesmerising", I was sold. I bought the green ones, which were £6. Later, I learned that these are colour-coded based on coarseness; black are the roughest and yellow the least aggressive, with green being the second-least aggressive on your skin. When they arrived, I also realised my order contained two packets of four mitts, so I gave a set to my boyfriend to try, too. The instructions suggest limiting usage to once a week, otherwise it can be irritating for your skin. Now, using this mitt in a hot bath peppered with essential oils has become an intense-slash-indulgent part of my Sunday routine.
My skin-care routine is pretty low-key, but one mainstay is a weekly acid peel from the Ordinary. On a recent jaunt to Spitalfields, after picking up some hand-pulled noodles from Fen, I nipped into the Ordinary store to replenish my supply. I find the Ordinary's little pipettes so appealing, and the peel is really straightforward to use. You apply it to your face, leave it on for ten minutes, then wash off. Afterwards, my skin looks smooth and bright, and my face feels like I've had a facial
I also picked up some of the 0.2 percent retinol, which I had been using pre-lockdown. When I last ran out of it, they were completely out of stock online, so retinol sort of fell out of my routine in the last year. On the advice of some skin-care-savvy friends, I'm re-introducing it slowly, as retinoids can be quite powerful — so I'm putting it on at night, every few days.
I picked this sweatshirt up while I was in the END store in Soho with a friend earlier this month. I'd actually been looking for a new chore coat or light jacket, but this particular jumper, in this particular shade of green, really caught my eye. I was impressed at how thick and soft it was, and when I saw it was just £49, I had to try it on. Compared to my Champion sweater (a lockdown mainstay), this is looser without feeling baggy; it's at once a perfect hangover sweatshirt while also being nice enough to wear to the pub. I'd never heard of Colourful Standard, but have since found out that the Portugese brand has a focus on sustainable practices, using eco-friendly dyes, recycled packaging, and adopting a zero-waste approach. Their hoodies, which I also saw in END, look soft and roomy, too, and I'm thinking of trying their boxer briefs, which come in 12 Benetton-esque shades.
Rosie Percy, senior audience-development manager
Photo: retailer
When the Friends of Glossier sale tip got dropped in the Strategist UK Slack channel, I used the opportunity to stock up on some staples, including their Brow Flick in blond and Stretch concealer. While there and in a state of frenzy, I figured I'd also try out a few new products for 20 percent less.
I'd had Lidstar — Glossier's sparkly cream eyeshadow — bookmarked for a few weeks and a new Champagne-y shade "Bun" had dropped just in time for the sale, so I added to basket. The product comes in a satisfyingly tactile test tube and applies with an easy swipe, minus any stickiness I'd experienced with other non-solid eyeshadows. The delicate Champagne colour with flecks of gold glitter is subtle enough to wear throughout the day (and into the night) and doesn't even crease with my hooded eyelids and oily complexion. I've worn it most days since buying, and I'm already eyeing up other shades, only this time I don't think I'll be able to wait for a sale.
Photo: retailer
Like many others, the past year has turned my mind to mush, leaving me unable to concentrate on a book after only a few pages. So when a few friends recommended Daisy Buchanan's Insatiable as an easy-to-read bonkbuster, it sounded like something that could restart my interest in reading. I picked up a copy from Waterstones on my way to the beach, and by the time I'd drank a beer on the seafront, I'd finished several chapters. It's an incredibly relatable story — an underpaid young professional in London struggles with status, love, credit-card debt, and dodgy Itsu lunches — right up until it descends into orgies with a wealthy art crowd. Yes it's filthy and fun to read, but there's also heartbreak, friendship, and raises the question many of us wonder in our 30s: "What do I actually want?".
I moved to the Kent coast earlier this year, and one thing we insist on doing with all our down-from-London guests is visit the Champagne bar based inside a lighthouse on the harbour: The views are great, and the drinks are even better. It's there that I discovered Chapel Down's Sparkling Bacchus; that's since become my regular order while out and to order in at home. It's produced just up the road and, in my opinion, tastes way better than Champagne for a fraction of the price. The Bacchus has a clean, light, elderflowery taste that doesn't leave my mouth dry or teeth sticky — and it hasn't yet given me a headache like other sparkling wines have. At only a few quid more than a high-end supermarket prosecco, it looks and tastes way more expensive than it is, so I can justify popping the cork as an end-of-the-week treat rather than saving it for a special occasion.
Ailbhe Malone, senior editor
I was in Skye at the start of the month and found myself captivated by a salt pig in the window of the Uig Pottery shop in Portree. I returned three times to purchase it (the first time, the shop was shut, the second, I didn't have enough time to both buy the pig and catch my ferry). Finally, the pig was mine. There are plenty of glazes to choose from — I went for the "seashore" option, but was also tempted by the "Birnam". Back home, the pig is a hit. It is just the right size and depth to pinch some Maldon from, or to shovel by the teaspoon-full into a pesto. No fewer than three guests have admired it — and have asked for the Uig Pottery website address — perhaps I may soon be a pig-fluencer.
I also picked up this lovely sugar bowl when I was buying the pig.
When I was in Portree, I was enchanted by Òr — a lifestyle store with two locations. I was very aware of having to lug my bags back on the train, so I restrained myself and bought some Scottish cashmere socks in a jolly orange. I can't seem to find the orange socks anywhere online (Òr are still setting up their webshop), but I quite like this heather-grey version.
I got a piercing at Aurum the other week, and as I was going to the till to pay, this zigzag ceramic soap dish caught my eye. I initially liked it for its texture (and the fact that I needed a soap dish), but when I looked up the brand when I got home, I liked it even more. OBA studios design day-to-day objects with a different shape for each object (their site mentions a clothes horse, but all you can currently buy from them is the soap dish). The Rocky soap dish is handmade by people with disabilities in a recognised facility near Brandenburg. So far, it's performing exceptionally well by my sink — my once-slimy soap now lounges on its handsome ceramic plinth.
The Strategist UK is designed to surface the most useful, expert recommendations for things to buy across the vast e-commerce landscape. Read about who we are and what we do here. Our editors update links when possible, but note that deals can expire and all prices are subject to change.