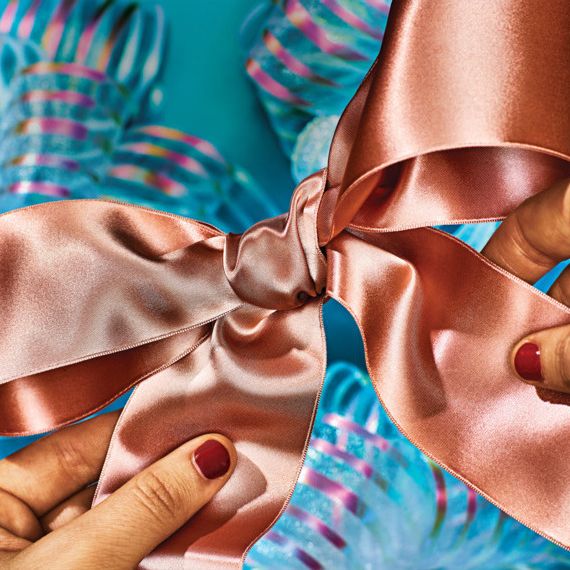 We know the holidays can be a stressful time, which is why we've put all of our holiday coverage together in one place — because there's still no reason to white-knuckle it up until December 25 when we can do the research for you. Consider this your home base for all things holiday-related on the Strategist UK. So whether you're looking for something to gift your is-it-official-yet boyfriend, your very stylish mother-in-law, or your best friend who has specifically expensive taste, here is your guide to the best Strategist-approved gifts for everyone on your list.
Whether you're buying for someone else or just treating yourself on payday, splurging on luxury items is never not gratifying. But our favourite flex at the moment is finding great thrifty options from designer brands, like this highly giftable Aesop rosehip lip cream. Read more here.
It's important to remember, no matter who you're buying for, you don't need to break the bank. So we've put together the best gifts you can buy online that all come in an under a tenner, like this Kent Handmade Fine Toothed Moustache and Beard Comb. Read more here.
You might have done the big shop, but there are still a few names left on the list. What to get for your Secret Santa? What do you buy your 8-year-old godchild? We've got plenty of suggestions, none of them over £20, like this Deep Sleep Pillow Spray by This Works – perfect for a frazzled sister in law. Read more here.
At 6 months old, babies can't thank you for a well-considered gift, but they can make eye contact, grasp objects in their little hands, and smile back at you. Because they grow and learn through play, the best gifts for 6-month-olds will both nurture their development and keep them engaged. The No. 1 recommendation, which came by name from all three of our experts is a book called Baby Faces by Margaret Miller. Read more here.
Whether you've just started dating or you've been together for 15 years, buying a present for your girlfriend can be fraught. How do you express universal sentiments such as 'I love and respect you' while also avoiding the generic? May we suggest a super-soft slate grey cashmere beanie by Lona Scott? Read more here.
Not all mums are the same, but most mums are tricky to buy for. Which means be it Mother's Day, Christmas, or her birthday, you may find yourself staring down an Interflora order form, wondering if a bouquet of 30 roses says 'Thanks for raising me'. Don't fret, we're here to help. This lovely Le Creuset teapot in a cheerful colour is a good place to start. Read more here.
If your dad is tricky to buy gifts for, be it at Christmas, on Father's Day, or just for the big guy's birthday, we're here to help. We put our heads together to source the best kinds of gift for any dad, including a Stelton 8 Cup Press Coffee Maker that is quite elegant. Read more here.
From complex boyfriends to coffee-snob boyfriends, from boyfriends who love tacos to boyfriends who heard that, actually, they're saying five a day isn't enough now and you actually need ten portions of fruit and/or veggies. We've got you covered, with recommendations that include this very wearable Timex Analogue Watch. Read more here.
We've curated a list of the most giftable products for every type of beauty lover in your life, from your Gen-Z sister to your fanciest friend. We're heavily into these insanely adorable Squish Beauty cherry eye and cheek masks. Read more here.
Maybe you're doing a cost-conscious Christmas this year, or you have an office Secret Santa with a strict limit. Let us help you find the best stocking stuffers on a budget — like this charming set of cult toothpastes from Marvis, with a flavour for every day of the week. Read more here.
Going over a friend's birth chart has become a mainstay of dinner-party conversation, almost as commonplace as talking about the weather. Co-Star has more than 5 million registered users, and astrology meme accounts like @trashbag_astrology and @notallgeminis have hundreds of thousands of followers each. To find out what to get the astrology enthusiast in your life, we asked nine professional astrologers for the recommendations, including this trippy candle from Fornasetti which you can use as an "art piece" once the wax burns down. Read more here.
Even in our harried modern world, all it takes for families to press pause, put down their devices, and talk with (or shout at) one another all evening is one brilliant board game. Try out Jungle Speed: Designed for two to eight players, Jungle Speed is, as its name implies, an ultra-fast-paced card game where each player tries to empty their hand as quickly as possible. Read more here.
To find out which weighted blanket is truly the best to gift, we consulted with sleep experts and tested out a few on our own. Ideally, a weighted blanket should weigh in at around 10 percent of the user's bodyweight in order to provide enough heft without being uncomfortable, but for adults there's some more wiggle room (around 8 to 12 percent is generally fine). The Baloo weighted blanket came out on top overall, but we found other worthy runner-ups too. Read more here.
The Strategist UK is designed to surface the most useful, expert recommendations for things to buy across the vast e-commerce landscape. Read about who we are and what we do here. Our editors update links when possible, but note that deals can expire and all prices are subject to change.